The treasure trove of distinctive art and architecture that is the Sri Lankan aesthetic heritage is yet to be unearthed and brought to the eyes of the world. This is the view of some Indian artists who were in Sri Lanka for a six-day workshop titled 'ArtEast' held at Vil Uyana recently to promote art between the two countries.
"The objective of ArtEast is to promote development of art forms in Asian countries. As part of the initiative we build relationship with artist communities through different interactive mechanisms. We have been meeting artists individually in Asian countries during our previous travels. However, the objective of this art camp is to meet them collectively and understand them by facilitating an interaction between artists from two countries," says Saravanan Kandas, the main force behind ArtEast.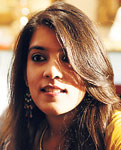 Sahar Zaman
Sahar Zaman, a CNN IBN art journalist, who was covering the workshop for the art show she hosts, said, she thought the idea of the camp was great because she believes a lot of interaction should happen between artists in India and Sri Lanka. "It's funny how close we are geographically and how close our culture, heritage and history are. But there's somehow not so much interaction between our countries."
"I don't know what's stopping that, it could have been the war that kept artists away, but I see a lot of promise and a lot of hope in this project and hopefully these events will set the ball rolling in spreading the word. When the news spreads about this artist camp organisers are going to follow suit and come here to Sri Lanka because it's a place and a relationship that artists need to explore much more than we have," said Sahar.
Other artists who participated in the workshop echoed Sahar's sentiments about the connection between Indian and Sri Lankan art. Indian journalist cum contemporary artist, Dhiraj Singh, says "We are from the same cultural ethos. Art being a product of that ethos it's inevitable that there are similarities. I see this (workshop) as a great platform for artists in India to reach out to Sri Lankan artists."
Adds Saravanan, "India and Sri Lanka have a similar culture but the diversity in each of them makes it vast to be understood and shared. For example our visit to Sigiriya revealed that the paintings are similar to Ajanta and Ellora cave paintings but the expression, message, form, style are completely different. The rationale for each of the art and architecture forms at Sigiriya was thought provoking and new to Indian artists. The architecture on water management and natural fountains was impressive. So definitely there are infinite things to learn from each other in the process of understanding each other's art and architecture. We are happy that we facilitated this process through ArtEast."
The Indian artists who participated in the workshop were Jayita Borthakur, Prabhakar Kolte, Dhiraj Singh, Shyam Kanu Borthakur and Subrata Gangopadhyay, along with Lankan artists Anoma Wijewardene, Jagath Ravindra and Sanjeewa Kumara.
Saravanan says that particular artists were selected to participate in the workshop for either their contemporary or figurative styles of art which retained a definite appreciation to Asian culture. He adds, "Prabhakar and Jagath were pure contemporary artists, Shyam, Subrata and Jayita were more figurative and Anoma and Sanjeewa were contemporary with a message. And all of them had a great appreciation of each other's culture and their interaction reveals their values."
ArtEast was hosted by Vil Uyana - Jet Wing, a serene and inspiring location that the artists agreed was a brilliant muse. Describing how the workshop inspired the artist, Anoma says, "At the camp we lived together and interacted with each other. So we influenced each other, we learnt about each other's countries and we discussed intellectually and philosophically, the art market in India, how the whole upmarket crashed and how it's levelling out now. So there were lots of very interesting discussions, but also there was a lot of singing and laughing together and all those wonderful things."
The ArtEast organisers have over the past year been interacting with Sri Lankan artists. Planning of the workshop was done in India, and together with implementation the process took an impressively short span of two months. This first ArtEast workshop organised in Sri Lanka, Saravanan says, was so successful they plan to have one or even two workshops every year.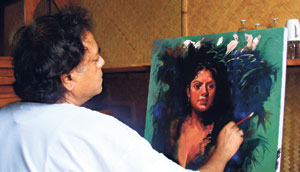 India's Subrata Gangopadhyay and (below) Anoma Wijewardene engrossed in their work.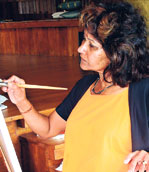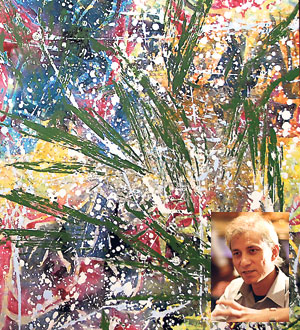 A painting by Dhiraj Singh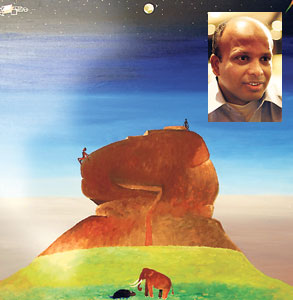 Sanjeewa Kumara's creation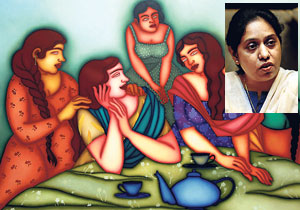 A painting by Jayita Borthakur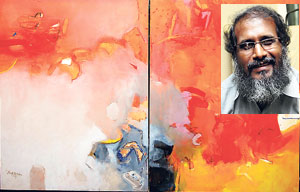 Jagath Ravindra's creation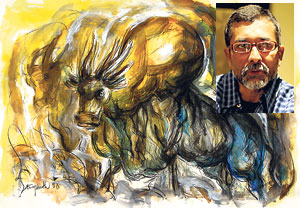 A painting by Shyam Kanu Borthakur.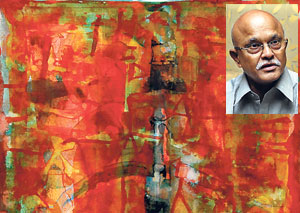 Prabhakar Kolte's creation