Tourist friendly 'tuk-tuks' have hit the roads of Colombo, to ensure safe transport for foreign visitors.
While 3-wheelers are the common mode of transport in the country, tourists have complained about extortionate prices charged by 3-wheelers, reckless driving and sometimes even harassment. The Tourist Friendly Tuk Tuks project is aimed at providing safe, ow cost and quality transport services for foreign visitors to Sri Lanka.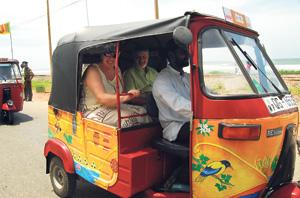 "The new service, 'Tourist Friendly Tuk Tuk' is a scheme to introduce metered taxies, with accepted tourist standards, for the benefit of visiting foreign tourists to Sri Lanka," said the Director International Relations and Research, of the Sri Lanka Tourist Board, Malraj Kiriella.
The project, launched in September to celebrate World Tourism Day, started by enlisting about 50 metered 3-wheelers from the All Island Three-Wheeler Drivers Association. The tourism authorities say the programme is open to any 3-wheelers that meet its criteria.
For easy identification and to distinguish them from normal three wheelers, the tourist trishaws are decorated with colour paintings using a Sri Lankan art style. The trishaw paintings show various tourist attractions in the country and are bordered by a traditional 'liyaval' pattern, said tourism officials.
The drivers of these tourist trishaws are issued a license by the Sri Lanka Tourism Development Authority's (SLTDA), after completing a specially designed training course. It is mandatory to display the 'driver's photo identification,' also issued by the SLTDA and to display charge rates for the passenger to see.
The tourist friendly trishaws can be hired by contacting the Call Centre of the All Island Three-Wheeler Drivers Association, on the hotlines: 0712 500 800 or 0772 299 299.
"We follow an operating model where the passenger is assured of safety, fair price and good quality service. This is why the tourism authority chose us for the 'Tourist Friendly Tuk Tuk' project," said the President of the All Island Three-Wheeler Drivers Association, Lalith Dharmasekara Vithanage.
The Association already operates about 150 metered trishaws, based on a standard pricing model, for domestic consumers. The Association says its metre-based charging system protects consumers from unfairly high three wheeler charges. Because the three wheelers are all centrally controlled and monitored, these trishaws also offer better security for passengers, especially women.
"We offer the same rates for tourists as well as locals. Our price is Rs 50 for the first kilometre, and Rs 30 for every additional kilometre. Our waiting fee is Rs 90 for 1 hour. So this is only Rs 1.50 per minute. The price is shown on a metre near the drivers' seat. So this way, the customer knows how much to pay at the end of the journey," said Mr Vithanage.
The Tourism Authority plans to gradually expand the Tourist Friendly Tuk Tuk service inside Colombo and also to other popular tourist destinations in the island. Meanwhile, the Three-Wheeler Drivers Association is looking at expanding its services for domestic consumers as well as tourists.