"Get up, stand up, stand up for your rights," were the words of Dr. Rajini Thiranagama's favourite song sung by her music idol Bob Marley. It was her courage to stand up for the rights of her fellow countrymen and her refusal to remain silent against oppression in the face of danger that ultimately cost her life.
Rajini was gunned down by the LTTE on September 21, 1989 while cycling home from the Faculty of Medicine in Jaffna where she worked. The gunman who shot her dead not only silenced one of the strongest voices against violations of human rights by all sides to the conflict but also deprived her two young daughters of a mother, her family members of a daughter and sister and countless others of a friend. But most tragically it instilled fear in others who dared to dissent.
A memorial to Rajini was organised on her 20th death anniversary last week with members of her family and many others present to celebrate the short but remarkable life that ended when she was just 35. Family members and others paid tribute to Rajini while a personal insight into her life came from the words of her husband Dayapala Thiranagama.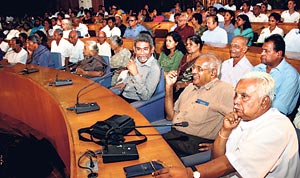 A section of the audience at the commemoration ceremony
He recalled how on the morning of September 22, 1989, he had to hear the news of his wife's death from a total stranger. "Your wife, Rajani, was shot by a gunman yesterday afternoon on her way home from the university. She was fatally wounded in the attack. Your children are with their grandparents," he was told. He was in Colombo at the time.
The couple had met in 1976 when both were fellow students of the Colombo Medical Faculty and her fighting spirit was very much evident even then. They married the following year, 'in the midst of anti-Tamil riots in Colombo'. Their daughters Narmada and Sharika were born in 1978 and 1980 respectively.
"Rajani demonstrated an extraordinary courage and unwavering commitment in her quest for justice and human dignity against all the parties embroiled in a brutal armed conflict where the lives of ordinary masses were placed at risk of displacement and death," Dayapala said.
By 1983, inter-communal relationships between the Sinhalese and Tamils had taken a turn for the worse in the aftermath of the July riots. That year Rajani had left for England on a Commonwealth scholarship to commence her postgraduate studies. "Her initial exposure to militant Tamil Tigers and her campaigning for her sister (Nirmala Rajasingham who was being held under the PTA) both had contributed to her joining the LTTE. I visited her in mid-1984 in London and it appeared then that there was no going back on her part. We decided to part and go on our separate ways," Dayapala recalled.
However, it was not long before she became disillusioned with the LTTE. "Rajani was too honest, politically straightforward, truthful, fiercely independent and committed to her beliefs for the LTTE to handle. After I left for Sri Lanka, within a couple of months Rajani had left the Tigers. She returned to Jaffna with her two daughters against the advice of the family and friends in 1986."
In April 1987 Rajini wrote to Dayapala from Jaffna, "I am very worried. It is difficult to live here. Most depressing is the dark valley we are walking through -particularly, inhumanity everywhere. Amma is scared, she is scared for the children that I would talk out loud or do something".
He explained that it was against this depressing and gloomy political background that Rajani fused together her new political outlook which consisted of the right to dissent against the rule of the gun and the freedom to organise structures that would ensure democratic freedom with human dignity. One of the major components in her outlook was her feminism - in empowering women and building structures to strengthen the independent voice of the woman.
However it was her pioneering role with other university academics in forming the University Teachers for Human Rights (UTHR Jaffna) that spoke out against atrocities committed by the Tamil Tigers that resulted in her brutal killing.
"The Tamil Tigers understood the possible political danger from Rajani. The Tigers would not hesitate to stop the live wire of the organisation (UTHR) for good."
In a society that has seen countless young lives being cut short in their prime, Rajani Thiranagama may have become just another faceless statistic but her dedication to the cause of human rights while she was alive as well her inspiring and compelling writings have meant that another generation of Sri Lankan continue to be inspired by her to speak up against oppression which ever quarters it may come from.
Her commemoration was organised by the Rajani Thiranagama Memorial Committee together with the International Centre for Ethnic Studies. The memorial lecture was delivered by Indian human rights activist Nandita Haksar.