It's visiting day for K. Vijaya Priya of Home-Start Lanka and we make our way with her down a crowded, narrow Colombo alley, until an even narrower turn-off brings us to the home of Faiza and Hamid*. They have two little girls, Naeema and Zahrah, and share their home with two other families.
Faiza and Hamid see Priya at least once a week, even though she has nine other families to visit. When she's there she plays with Zahrah and has long conversations with Faiza. But it is with Naeema that she spends the most time.
Naeema, who will be three years old in two months time, is autistic. She has trouble walking, talking and sitting upright and suffers from vision impairment. Priya patiently plays games that help Naeema strengthen her muscles, and lavishes affection on the child. The family has been flourishing under her attention, evidence that this unusual approach really does work.
Home-Start Lanka follows the same principles established by Home-Start UK, an organisation that trains volunteers who offer regular support, friendship and practical help to families with at least one child under the age of five, primarily in their own homes.
The families they help come from different backgrounds and need support for many different reasons including postnatal illness, loneliness, relationship problems, poverty, disability, single parenthood and coping with several young children. The idea is to help families weather crises and remain together.
The personal relationship built between the volunteers and the families is key, says Madusha S.W. Dissanayake, founder of Home-Start. "They're not just a number, we should really know who this family is," Madu says, adding that Home-Start Lanka maintains extensive files on each family.
Faiza, for instance, married young and had her first child, Naeema, when she was only 21. She suffered post-natal depression and had a difficult time adjusting to her child's disability. She was reluctant to talk to Priya when they first met, but now after nearly three years, the two have a close rapport.
With us is Indica Samarakoon, Programme Manager at Home-Start. She was the first person to realise that Naeema might not be developing normally. She has kept in touch with the family, and Naeema is obviously comfortable with her, accepting a long cuddle while the adults around her talk. Currently Home-Start works with more than 200 families across Colombo 5, 8, 9 and 10, and in Kalutara as well, Indica says. They manage this with a remarkably small force of volunteers – only 15 altogether.
The only volunteer who can speak Tamil fluently, Priya has a heavy workload. She is 28 years old and also a mother. Home-Start volunteers are required to be parents themselves and most of them are below 45 – which makes it easier for them to relate to families which are struggling to cope with infants and young children.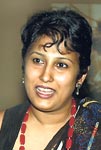 Madusha
Having met the basic requirement of parenthood, Home-Start volunteers undergo a 40-hour training programme over 2½ months. "We call this relationship (between the volunteer and family) a negotiated friendship," says Madu, explaining that great emphasis is placed on confidentiality, a non-judgmental attitude and strong commitment. Volunteers are taught how to handle situations with domestic violence, drug abuse and sexual abuse, and given basic training in health and safety, food and hygiene, basic first aid and family planning. "It was developed by Home-Start UK and it is an accredited programme there," says Madu, adding that she and Indica conduct the training themselves.
Volunteering can be very challenging. "You work alone," says Madu. Volunteers must learn how to take care of themselves and what to do in case of an emergency. Home-Start volunteers do everything from ferrying the family to the clinic, to registering the marriage of the parents, acquiring birth certificates for the child and helping with school admissions. "We base ourselves on the referrals," says Madu. The only time the organisation will consider breaching confidentiality is when the child's wellbeing is in question.
Unlike in the UK, most of the local families that Home-Start Lanka supports are in desperate need of financial aid. Though the organization cannot afford to step in, it has two programmes – the nutrition programme and the early intervention programme, the first directed at alleviating malnutrition in pregnant women and the second for basic speech and language therapy.
Physiotherapy and counselling is also provided through volunteers. They have the time to answer a family's questions and build a relationship with the child – not always an option for the professionals.
This is one of the reasons that Madu founded Home-Start in Sri Lanka. She became a volunteer when studying for her M.A. in developmental paediatrics, social and medical anthropology in London and trained as a professional Home-Start volunteer.
After working for a year she became the coordinator for a Home-Start Scheme in London and established Home-Start Lanka when she returned home in 2003. Funding though has always been difficult and Madu has often had to reach into her own pocket to keep the organisation running.
Madu, who was recently welcomed to the Board of Trustees for Home-Start International, declares herself fiercely committed to her cause. "There were many times that I felt like stopping, but we've been through a period where we had nothing, and we still did what needed to be done. We won't stop now," she vows.
For more details contact Home-Start Lanka on info@homestartlanka.org.lk, tel:0716884908, 2785666.
*Names have been changed to protect the family's privacy.