In 2006, the Maximus project from Sri Lanka won the World Challenge title. This year, another entry from Sri Lanka, the 'Safe Bottle Lamp Project' is one of the 12 finalists in 'The World Challenge - 09' contest run by BBC, Newsweek and Shell.
The prestigious annual contest is open to entries around the world with the final winner being chosen by votes online. Other finalists this year are from India, UK, Kenya, Namibia, US, Thailand, Haiti, Indonesia, Israel and Afghanistan. Online voting starts tomorrow.
The Safe Bottle Lamp project was launched by Dr. Wijaya Godakumbura in 1992. By replacing 775,000 of the unsafe lamps in use throughout Sri Lanka with their 'Sudeepa' safe lamps, the project has saved many lives.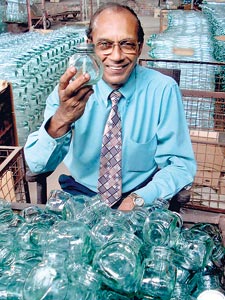 Dr. Godakumbura at the safe bottle lamp factory
Titled, A Bright Idea, the project entry reads: Burns caused by makeshift unsafe kerosene lamps are a problem in Sri Lanka, where a fifth of the population has no electricity. These injuries can be prevented.
Safe Bottle Lamp Project is the brain child of a Sri Lankan surgeon, who designed a simple safe lamp that can be easily mass produced at low cost.
It is an effective, inexpensive and a quick solution to a problem encountered in many developing countries. The WHO and UNICEF have stated that the use of this lamp "could prevent the many kerosene burns that occur around the world each year". The project has won Rolex, Lindbergh and Reader's Digest awards in the past.
If the 'Safe Bottle Lamp Project' could repeat the success of Maximus, they would use the prize money of USD 20,000 to make safe lamps to be given free to the needy, Dr. Godakumbura says, explaining that bottle lamp burns cause great misery, such as pain lasting several weeks, gross scarring and sometimes death. There have been instances where all the fingers of both hands of the victim were destroyed with gross scarring of the face and neck. When that happens to the bread winner the family is doomed, with malnutrition and disorganization of children's education.
"These injuries still do occur, but to a lesser extent. On June 15 in Puttalam, such an accident destroyed a small cadjan house and killed two young children. Even in Colombo, unsafe lamps are still used, such as in some shanties in Narahenpita and they are still sold in places like Kotahena, Nugegoda, Rajagiriya etc," Dr. Godakumbura said.
A film on the Safe Bottle Lamp project will be telecast on BBC News at 7 p.m. on Saturday, October 3 and at 7 a.m., 2 p.m. and 10p.m. on Sunday, October 4.
The contest website www.theworldchallenge.co.uk carries voting instructions. On line voting will continue till November 12. The website of the project is www.safebottlelamp.org.