The new wave of the Sri Lankan Higher Education inaugurated last weekend at BMICH. SAITM(South Asian Institute of Technology and Management) is the first Green campus located in the suburbs of Colombo, with a vision to make Sri Lankan and regional youth enriched with professionalism and character. Dr. Neville Fernando, a veteran in many subjects including Medicine, Business, and Politics is the brainchild of this novel concept, brought into reality by investing Rs. 700 million of his personal funds to gift a glorious future for the youth in this country.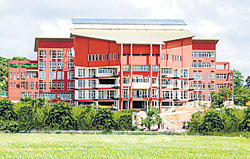 Located on a picturesque four acre land in the midst of vast green terrain will definitely integrate students of all disciplines with the environment and make them eco friendly. Dr. Neville Fernando emphasized the fact that the facilities available in this Institute which includes state-of-the-art classrooms, an auditorium with 350 seats, students lounge spanning 10000 sq ft, etc will make life easy and fun for students.

The academic Faculties consist of a medical faculty affiliated to the prestigious Nizhny Novgorod State Medical Academy of Russia. Students will have an opportunity to gain a highly recognized medical degree for a lesser cost compared to the cost of studying overseas. This will definitely save a substantial amount of foreign exchange to the country.

The duration of the Medicine programme delivered in English medium is five years and four years will be spent at SAITM. The Nizhny Novgorod medical degree has the recognition of the Sri Lanka Medical Council as an approved qualification to practise. Nizhny Novgorod is one of the leading medical universities in Russia among the top 10 Medical colleges. Apart from that World Health Organization, General Medical College (GMC) -UK, Australian Medical College (AMC), and Education Commission for foreign Medical Graduates (ECFMG)-USA recognizes the Nizhny Novgorod University. The academy is also included in the Annual reference book of Medical Institutions issued in Great Britain. There are 30,000 physicians graduated from the university since its inception.

SAITM is affiliated to the Asian Institute of Technology - Thailand, which is one of the highest ranked higher educational institutes in the world to award degrees in various fields of Engineering. SAITM will offer the following programmes in engineering in affiliation with AIT.

BSc in Information and Communication Technology (ICT) Engineering
BSc. In Electronics Engineering
BSc. Mechatronics Engineering
Asian Institute of Technology is one of the most respected engineering schools located in Thailand and promotes technology and sustainable development in the Asia Pacific Region. Apart from the above disciplines B.Eng in Civil Engineering from UK is also available for those who wish to build up a career in Civil Engineering.

Faculty of Communication and Media provides a pathway to develop a career in Multimedia Technologies. University of Buckingham and University of Wolverhampton, leading British universities, TAFE Colleges in Australia are partnered to provide world class academic and vocational education.
Currently enrolment opens for Edexcel BTEC HND in Interactive Media and SAITM Diplomas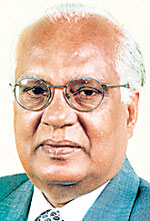 Dr. Neville Fernando,
MBBS (Ceylon)
I am investing five hundred million rupees to establish South Asian Institute of Technology and Management (SAITM) in order to produce educated men and women with character. I do not expect a return on investment but only an operational profit to run the institution, so that children who enter SAITM will have affordable fees to pay. This institution will be donated to the state in thirty years time in return for what my family and I have got during our lifetime.
My expectation is that the students who join SAITM will live up to high ideals. My intention is to recruit the best university professors and lecturers from Sri Lanka and abroad to teach students and make SAITM the best education institute in South Asia and most sought after higher education institute.
I consider education, examinations and certificates alone to be insufficient. Therefore, I am establishing Sri Lanka's first 'Green Campus' where students will live and study in harmony with the environment where sustainable development is of high priority.
Biogas, conservation of water by collecting rain water and recycling waste water will also be implemented. The landscaped area will attract birds and bees.
The motto of SAITM is 'Education with Character' and I earnestly request prospective students to take advantage of our excellent academic programmes and state-of-the-art campus facilities.