When 2009 dawned, 14-year-old Anuththara Kavindi Jayawardene drew up several New Year resolutions she hoped to fulfil during the year. "I will donate Rs. 200 of my pocket money to the Sri Lanka Army; I will try to be friendly even with my enemies, and I will consume only five pizzas this year," she wrote in her notebook.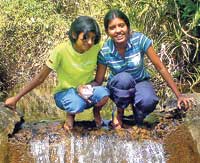 Kavindi Jayawardene, at left, with a friend. "She was a very
loving child, a hard-working student, and a devout Buddhist."
Sadly, she would not live to fulfil her New Year wishes. Kavindi took her life last week, leaving her friends, family and school in a state of shock and grief. Kavindi, an only child, was a Grade 9 English medium student at leading Colombo girls' school, Musaeus College.
According to Kavindi's mother, Sandya Kumari Jayawardene (45), just one week before the family tragedy mother and daughter went shopping for clothes, and Kavindi had wanted to buy two white frocks.
"I asked her why she wanted white, and whether she was thinking of going to a funeral," the mother told the Sunday Times. "We never dreamt we would be attending a funeral from our own house, or that it would be Kavindi's funeral." Kavindi's suicide makes no sense to her parents.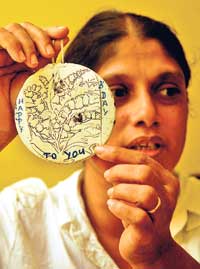 Sandya Kumari Jayawardene said her daughter would always give her parents handmade gifts.
"She loved and respected life," Mrs. Jayawardene said. "We cannot understand why she would have done this. She showed no signs of stress, fear or depression." Her parents described their dead daughter as a loving child, a hard-working student, and a devout Buddhist. "Kavindi excelled in information technology," her mother said. "She loved to be with her computer.
"She would offer flowers to the Lord Buddha at the beginning of the day and at the end of the day," Mrs Jayawardene said. "For our birthdays, she would make a beautiful gift for my husband Athula and myself. She wanted to give us something she had made herself, not bought from a shop. One year she made me a lovely red pearl bracelet."
When she was boarded at a family friend's home for three months, at the time her father was undergoing a kidney transplant, Kavindi would call daily to ask about her father's condition.
"She worried whether her father would survive the operation," her mother said. Kavindi took her life after the school authorities took her to task for bringing a mobile phone to school. The school has refused to allow the Sunday Times to talk to the teachers at Musaeus and Kavindi's classmates.