Sri Lanka is against imposing economic and other sanctions on countries because these only cause hardship for the poor citizens, Foreign Minister Rohitha Bogollagama told an Extraordinary Meeting of the Commonwealth Ministerial Action Group (CMAG) in London on Friday.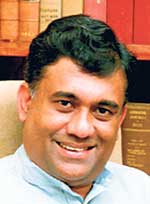 Rohitha Bogollagama
The meeting, held at the Commonwealth Secretariat, was convened to discuss recent political developments in the Fiji Islands. Citing Iraq as an example of a country that had suffered under economic sanctions imposed by the international community, Mr. Bogollagama said these sanctions had resulted in the death of more than one million Iraqi children. He said the Commonwealth should not make the same mistake.
The Foreign Minister said suspending Fiji from the Commonwealth, as some member states had suggested, would neither benefit the people of Fiji nor help put pressure on the military government.
Mr. Bogollagama said it was the Commonwealth's duty to continue its dialogue with the interim government of Fiji and pursue democratic reforms in the country with the participation of all stakeholders. The Commonwealth should be helping member states with fragile democracies to strengthen their democratic institutions and consolidate the rule of law, good governance, media freedom and human rights, he said.
At the end of eight hours of deliberations, the CMAG concluded that Fiji's interim government should reactivate the President's Political Dialogue Forum Process (PPDF), facilitated by the Commonwealth and the United Nations. It was stressed that the dialogue should be independent and inclusive, have a time frame, and that fair elections be held no later than October 2010.
The Fiji regime should declare a firm commitment to reactivating the PPDF, on the terms outlined by the CMAG, no later than September 1, 2009. If no such confirmation was received by that date, Fiji would be fully suspended from the Commonwealth. A report on consultations and engagement with the Fiji regime should be submitted at the CMAG's next meeting, in New York, on September 26.
Countries represented at Friday's meeting included Sri Lanka, Malaysia, New Zealand, Papua New Guinea, Ghana, Namibia, Uganda, and St. Lucia. The Minister of State of the Foreign and Commonwealth Office of the United Kingdom was also present.