Martin Wickramasinghe (1890-1976) was the most outstanding literary figure of the 20th century, with his novels, short stories and writings on a wide range of subjects. He started his professional life as a journalist in the Lake House group of newspapers in 1920, where he rose to become the editor of "Dinamina" and "Silumina". He took to writing novels and short stories very early in his career and his first novel, "Leela", was published in 1914.
Wickramasinghe was born on May 29, 1890 in the southern village of Koggala, bounded on the south-west by the reef fringed sea of the Indian Ocean and on the north-east by the large lake formed by the Koggala Oya. His early childhood education was at the guru gedera, the village temple and the village school. Even as a young man he acquired a wide background of reading, not only in Sinhala and English but also in Pali and Sanskrit.
Amongst his novels, "Gamperaliya" published in 1944 and "Viragaya" published in 1961 became landmarks in the development of the Sinhala novel. Lester James Pieris later created his international award winning cinematic classic from "Gamperaliya", whilst Tissa Abeysekera created a moving and memorable cinematic experience from "Viragaya".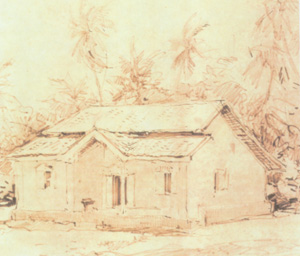 An artist's impression of Martin Wickramasinghe's birthplace
Wickramasinghe imaginatively explored and applied modern knowledge in natural and social sciences, literature, linguistics, the arts, philosophy, Buddhism and comparative religion to reach beyond the superficial emotionalism of national resurgence to search for the national identity.
He identified the enduring living roots that have sustained our national identity over the centuries in the tolerant humane and realistic pragmatism of the folk life and folk culture of the common people of Sri Lanka. His exploration of our folk culture laid bare the roots that have nurtured the core values of our cultural identity whilst assimilating elements from many other cultures.
Some of his writings have been translated into Hindi, Tamil, English, French, Russian, Chinese, German, Dutch, Rumanian and Bulgarian. His complete works include 14 novels and 104 short stories, all in Sinhala.
He has published 40 books containing his non-fiction writings in English and Sinhala including a wide range of themes in Buddhism, art, literary criticism, philosophy, cultural anthropology and sociology, as well as his autobiographical writings. In addition to his collected works, he has left a valuable collection of over 5000 volumes in several languages that formed his private library collected over a period of 60 years.
The Martin Wickramasinghe Trust has gifted this collection to the National Library of Sri Lanka and it is now available for reference in the Martin Wickramasinghe Hall of Literature in the Sri Lanka National Library and Documentation Centre.
The Martin Wickramasinghe Trust maintains his birthplace and the Martin Wickramasinghe Museum of Folk Culture in Koggala, which are open to the public.