Last week,
across the lagoon waded
the sea of innocents;
blood-spattered, salt-drenched,
in fragments of flaming saris,
shards of red-splotched sarongs.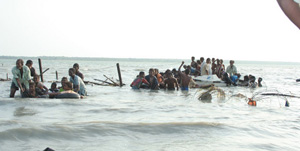 pic courtesy army.lk
Now, as black smoke rises in the distance from silent guns,
on this water, lulling in the wind,
float scraps of a history of death
and twenty-six years of hatred,
bits of shattered ideology,
blasted bone.
Into this water, let us sow.
We will search
every inch of this island for the
seeds of a different lotus;
find it where thin rays of
forgetfulness and magnanimity have
coaxed fragile sprouts,
glistening, sun green.
Into this water, let us sow.
And these seeds will weather this
salt lagoon bed
still the risen soil, clear the red waves
and spread their hollow tubers
and grow.
To bloom and bloom,
this many-petalled lotus,
so easily made rotten with bigotry
crushed by its burden of association,
we will make anew, this salinated home.
Into this water, let us sow.
May this lagoon fill
with thousands of flowers
swaying, lilting and gasping for
light and air, covering the table,
turning it into a different altar –
rewriting its own purpose.
Into this water, let us sow.
Let us sow and hold our breath.