WASHINGTON, Saturday (AFP). US President Barack Obama will host a summit with his Afghan and Pakistani counterparts on Wednesday, the White House said, amid growing US concern over the deteriorating situation in the region.
Afghan President Hamid Karzai and Pakistani leader Asif Ali Zardari will also hold separate talks with Obama as well as a mini-summit, White House spokesman Robert Gibbs said Friday.
"The president looks forward to discussing with these two democratically elected leaders how we can work together to enhance our co-operation in this important part of the world as the United States implements a new strategy for Afghanistan and Pakistan", Gibbs said.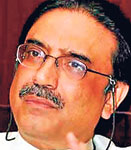 President Zardari
Obama has put nuclear-armed Pakistan, a key regional US ally, at the center of the fight against al-Qaeda as Washington dispatches 4,000 more troops, in addition to an extra 17,000 already committed, to Afghanistan.
The plan, unveiled in March, includes a focus on flushing out al-Qaeda sanctuaries in Pakistan and boosting civilian efforts to build up both Afghanistan and Pakistan, notably in agriculture and education.
The New York Times reported late Friday that the administration of US President Barack Obama was reaching out to former Pakistani prime minister Nawaz Sharif, the chief rival of President Zardari, in hopes to find a way to strengthen the country's government.
Citing unnamed administration officials, the newspaper said on its website that because of his ties to Islamists, the US government has long held Sharif at arm's length.
But now some Obama administration officials say those ties could be useful in helping Zardari's government to confront the challenge from Taliban insurgents, the report said.
"We think that there are a number of important missions in Afghanistan, but we can only do a few. And we have to count on our allies and partners to do others," Clinton said. "Obviously, we're taking the lead on security and stability operations, from the training of the Afghanistan National Army and police," she said.
"We need to learn from the lessons that were painfully taught us in Iraq. We need to better integrate our military and civilian assets and approach,"Clinton added."In Afghanistan, we actually have quite a bit of support from the international community, both in terms of military and civilian personnel and in contributions," she said.
"And in Pakistan, it's a very difficult environment because of the confusion among the civilian and military leadership about how to prioritize what is the greatest threat to Pakistan going forward," she said.
Obama said Wednesday that Pakistan's powerful military was starting to end its "obsession" with historic rival India and refocusing efforts on fighting extremists at home.
Pakistan has fought three wars with India after the countries gained independence from Britain.
In February Obama said Afghanistan had not replicated gains in Iraq, where, he said, "you get a sense that the political system is now functioning in a meaningful way." You do not see that yet in Afghanistan. They've got elections coming up, but effectively the national government seems very detached from what's going on in the surrounding community," Obama said.