Mexico voiced hope on Friday it might be getting control of an outbreak of a new flu strain that has killed up to 176 people there, shut down large parts of the country and raised fears of a global epidemic.
The U.S. Centers for Disease Control and Prevention (CDC) said Mexico's outbreak of the new H1N1 swine flu virus may not be as severe as it looked at first, citing many mild cases that were not immediately noticed.
Worldwide, 13 countries have confirmed cases. Almost all infections outside Mexico have been mild, and only a handful of patients have required hospital treatment.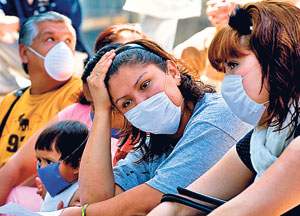 People wait in line to be assisted at an Influenza A (H1N1) (swine flu virus) prevention and detection medical mobile unit in Mexico City, on April 29, 2009. The World Health Organisation said on Thursday there was no reason to raise a pandemic flu alert. (AFP)
In Mexico, many offices and businesses were closed for a five-day break to help slow the spread of the disease. The capital's mayor, Marcelo Ebrard, said emergency campaigns against the virus were bringing results.
"Individuals and families have been taking these measures very seriously and as a result we have had timely and early detection of cases of respiratory illnesses that could be of this type. This has led us to a situation where the numbers are getting better every day," he said.
"I'm not saying we should let our guard down ... I'm telling you so you know where we stand." Mexican public hospitals that treat roughly half the country admitted just 46 patients with severe flu symptoms on Thursday, down from 212 patients on April 20.
The latest countries to report new infections were Denmark and Hong Kong -- where authorities sealed off a hotel where a 25-year-old Mexican visitor had been staying. He became the first verified case in Asia.
The United States, the country with the largest number of confirmed cases outside Mexico, reported 141 cases across 19 states. The CDC said in a new report on Friday it had confirmed 84 out of up to 176 deaths in Mexico blamed on the H1N1 strain.
Only one person has died outside Mexico: a toddler from Mexico who traveled to the United States.
U.S. President Barack Obama said he was pleased with progress in fighting the virus.
"I think that those who have been on top of this have done an extraordinary job. I'm optimistic that we're going to be able to manage this effectively but we still have more work to do," he told reporters after a Cabinet meeting.
A WHO vaccine expert said there was no doubt that it would be possible to make a successful vaccine against the virus in a reasonably short period.
The World Health Organization said on Friday no meeting of its emergency committee was scheduled, meaning there was no immediate likelihood of its level 5 alert being raised to a full 'phase 6' pandemic alert.
The WHO has said it would call the new virus strain Influenza A (H1N1), not "swine flu," since there is no evidence that pigs have the virus or can transmit it to humans. Pork producers had said consumers were shunning their product.
Most global markets have shrugged off flu fears as traders focused on hopes that a deep U.S. recession may be nearing an end. Meanwhile AFP on Sunday reported the new strain of so-called "swine flu" does not appear to be as virulent as the 1918 outbreak that is estimated to have killed up to 50 million people worldwide, a top US health official said Friday.
"We do not see the markers for virulence that were seen in the 1918 virus,"Nancy Cox, the chief of the influenza division of the US Centers for Disease Control and Prevention (CDC), told reporters on a conference call.
But Cox warned there was still "a great deal" that scientists did not understand about the 1918 influenza strain, which is thought to have been the deadliest influenza outbreak ever.