The third edition of Kaw Ama Watura, The Life of Christ in Sinhala Verse by Rev. W. Jacob Wijesinghe was launched on Wednesday at the Cathedral of Christ the Living Saviour, Colombo 7, after a hiatus of over six decades.
Kaw Ama Watura was a unique work of literature at the time of writing, and remains so to this very day, for it is an attempt at bridging the gap between the Christian community and the rest of the Sinhala-speaking population.
The author, Anglican priest Rev. Wijesinghe was conferred the coveted title of Sri Kavishwara by the then Mahanayaka Theras of the Malwatta and Asgiriya Chapters for this significant achievement. Speaking at the event, Bishop of Colombo Rt. Rev. Duleep de Chickera said the book was written by a person with a prophetic vision.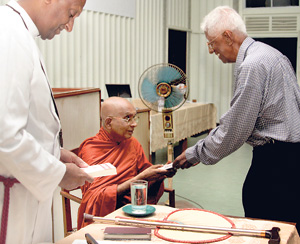 One of Rev. Jacob Wijesinghe's grandsons Gerald de Alwis presenting a copy of the book to Ven. Prof. Dhammavihari. At left is Bishop Duleep de Chickera
"This must inspire us to continue in our work known as inculturation," he said. As the Church today works predominantly in Sinhala and Tamil, the Bishop said, it was hoped that the release of the third edition would help carry its work forward.
There are plans to induct the contents of Kaw Ama Wathura into the current syllabus of Christianity in schools and Sunday Schools, said Bishop de Chickera adding that discussions to this end would be held with other Church heads.
Commenting on the title bestowed upon by the late Reverend by the then Mahanayaka Theras, Bishop de Chickera told The Sunday Times that it was a recognition of his significant work and an acknowledgement that could strengthen interfaith trust.
A distinguished guest at the book launch, Ven. Professor Dhammavihari Thera told The Sunday Times that in modern times the overemphasis on technical subjects such as Information Technology at local schools has taken away the importance of studying religion, and expressed his happiness at the proposed plan to include Kaw Ama Wathura in the Christianity syllabus.
"Not that I have anything against technical subjects, but religiousness is moving away. It's highly commercialised now. Inculcation is the key," he said. The third edition of Kaw Ama Wathura was reproduced by Print Collection retaining the previous editions' pocket book size. Its publication costs were borne by two of the author's grandsons, Ranjit and Gamini Ameresekere.
"This book, which tells the story of the life of Jesus Christ, consists of exactly one thousand verses," says Ranjit Ameresekere whose maternal grandfather was Rev. William Jacob Wijesinghe.
"During the past 10 years or so, several of us cousins, the Reverend's grandchildren, had been discussing the importance of having the book reprinted as the second edition had been published as long ago as 1952. The talking is now over and the third edition is a reality," he said.
Rev. Wijesinghe was born in 1869 in Pagoda to Don Johannes Wijesinghe and Malwatte Dona Celestine Peiris. He was their only child. According to Mr. Ameresekere, young Jacob received his early education at the Kandy Central School till the age of seven and then moved on to Trinity College. Later, he left Trinity to join St. Paul's Bilingual School in Kandy where he studied the Sinhala language. He showed a leaning towards Sinhala poetry at a young age, says Mr. Ameresekere.
"He had an unusual flair for languages. He studied Latin, Greek, English and Sinhala in school, and taught himself Tamil in adulthood. His knowledge of Tamil was good enough for him to be able to preach in that language," he adds.
Three years later, Jacob came first at an examination to enter St. Paul's English School, for which he was awarded a scholarship. In 1885, Jacob joined the Diocesan School and a year later came first in the Island in the Government School Certificate Examination. He later became Principal of the Thimbirigasyaya Sinhalese Mixed School and the English Night School in Polwatte. He also founded the first ever Assisted Bilingual Night school in the country.
"Throughout his life Reverend Wijesinghe had cordial relations with the Buddhist clergy, particularly with several of those who had literary leanings. Some relationships which began as mutual respect as Sinhalese scholars turned (according to L. W. J. de Silva in his book "Modern Sinhalese Poets") into genuine lifelong friendships. How wonderful it must have been for clergy of different religious persuasions to be such good friends," says Mr. Ameresekere.
Rev. Wijesinghe, according to his grandson, wrote a large number of poems on a variety of topics but had a penchant for turning Bible stories into songs. "Two that I definitely know about are the story of Joseph and the other about the birth of Jesus Christ called 'Uthum Suran Puthun'. My mother used to sing verses from both these songs when we were children," he says.
A collection of songs by Rev. Wijesinghe called Lama Giya was briefly used as a text book at Royal College, he adds.
Kaw Ama Wathura, says Mr. Ameresekere, was recognised as a significant literary work when first published in 1920. The Asgiriya and Malwatte Chapters of the Sangha presented Rev. Wijesinghe with a Sanna Patra bestowing on him the title of Sri Kavishwara."The book contains a photograph of Reverend Wijesinghe taken with the members of these Chapters when this title was given.
There is a saying that a picture says a thousand words and I think this picture certainly does that. The acclamation of this book on the life of Jesus Christ by the Sangha demonstrates the strength of the Buddhist-Christian amity which existed at the time. I am sure that amity is just as strong today despite all the recent upheavals in Sri Lanka," says Mr. Ameresekere.