A joint initiative between Walkers Tours and Thomas Cook, India to promote Sri Lanka as a holiday destination has created immense excitement and a strong interest in Sri Lanka as a destination in India.
The campaign, which is jointly funded by Walkers Tours and Thomas Cook is currently being publicized as "A holiday to suit every mood in a blissful experience called Sri Lanka", has been well accepted and shown great potential. A special, dedicated brochure about the promotion is also being distributed through an extensive network of 180 travel offices in 55 cities as well as 28 airport counters around India. In addition, advertisements are scheduled to be placed in the widely-read Times of India daily newspaper, with editorial publicity in the main cities such as New Delhi, Mumbai, Bangalore, Hyderabad, Chennai, Kolkata, Mangalore, Pune, Ahmedabad, Nagpur, Mysore, Lucknow, Jaipur and Kanpur.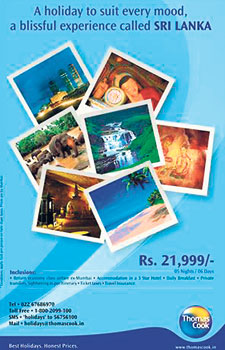 This is the first time a large tour operator has taken an initiative to promote Sri Lanka on such a large scale. Commenting on this joint campaign Nalini Gupta, President and Head of Marketing, Thomas Cook India says "This is the perfect opportunity to promote new destinations near India, that have the opportunity to showcase theme based and experimental holidays. Sri Lanka due to its close proximity to India and the fact that it has relaxed visa rules makes it a hassle free destination.
" Sri Lanka is considered to be a destination which has something for everyone. It also has a strong Indian cultural background that makes it attractive to Indians, who also want to experience history. Sri Lanka gives a wonderful experience to today's traveller, looking at a great value break, Thus making Sri Lanka it a destination of Choice.
Vasantha Leelananda, Head of Leisure Inbound for the John Keells Group said, "India holds tremendous potential for Sri Lanka as a customer base and we feel that collaborative promotional activities of this nature with a leading established tourism brand will create opportunities and stimulate the leisure market". SriLankan Airlines have also contributed greatly towards making this promotion work and, realizing this they have offered extremely attractive air fares, therefore making an unparalleled holiday opportunity.
SriLankan airlines operates forty eight flights a week out of six cities in India to Sri Lanka( ie Delhi, Mumbai, Chennai, Bangalore, Triuchchirappalli and Trivandrum).
Thomas Cook India and Walkers Tours along with SriLankan Airlines are in partnership in promoting Sri Lanka as a destination that will give Indian travellers a blissful experience.