BAGHDAD, April 25 (Reuters) - U.S. Secretary of State Hillary Clinton made an unannounced visit to Iraq today and said she saw no sign that the country was sliding back into sectarian warfare despite recent suicide bombings.
Making her first trip to Iraq as secretary of state, Clinton said the United States would keep supporting the Iraqi government as Washington prepares to withdraw all its troops from the country by the end of 2011.
Clinton landed on a military transport plane a day after two female suicide bombers blew themselves up outside a Shi'ite Muslim shrine in Baghdad, killing 60 people in the deadliest single incident in Iraq in more than 10 months.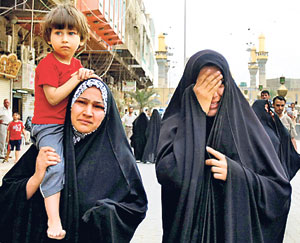 Two women leave the vicinity following a twin suicide attack close to the Imam Musa al-Kadhim mosque in the mainly Shiite Muslim district of Kadhimiya in northern Baghdad on April 24. AFP
It was the third major attack in two days, bringing the two-day death toll to at least 150 people. Recent high-casualty attacks have fanned fears of a resurgence in violence. President Barack Obama has ordered U.S. combat troops to prepare to pull out of Iraqi cities in June and there are doubts about the effectiveness of Iraqi forces.
Asked if the latest bloodshed could rekindle sectarian warfare, Clinton replied: "I see no signs of that at this time. "I think the suicide bombings ... are, in an unfortunately tragic way, a signal that the rejectionists fear that Iraq is going in the right direction," she added, speaking to reporters in Kuwait late on Friday before flying to Baghdad on Saturday.
Clinton noted that the worst single attack in the Northern Ireland conflict -- an August 1998 car bomb that killed 29 people in the town of Omagh -- occurred after the 1998 Good Friday accord that largely ended the sectarian struggle.
She suggested the nation had turned a corner and that Iraqi society had wearied of the violence. "In any conflict, there comes a point -- sometimes it's far later than we would wish -- where a critical mass of people on all sides just say 'enough,'" she said.
In a whirlwind visit, Clinton plans to meet Iraqi President Jalal Talabani and Prime Minister Nuri al-Maliki, to be briefed by Gen. Ray Odierno, the U.S. commander in Iraq, and to meet privately with a group of Iraqi women.