ASUNCION, April 25 (AFP) - Paraguayan President Fernando Lugo said Friday he would not resign despite claims from three women that he fathered children with them while he was a Catholic priest before taking power.
Lugo said in a televised news conference that he would stay until the end of his mandate in 2013 regardless of "the rumors of instability and conspiracy."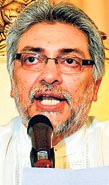 President Lugo
"I ask for forgiveness," he added. "It was not my intention to offend anyone and if anyone feels upset or hurt in this situation, I don't hesitate to ask for forgiveness in recognizing that I failed the church, the country, the citizens, those who put their trust in me."
The leftwing president, 57, last week recognized his paternity of one child, born nearly two years ago to a 26-year-old woman. He said anyone can succumb to temptation in a moment of weakness. But he has not admitted to fathering any more.
In the news conference, Lugo demurred, saying those issues were "private, and the constitution guarantees the right to privacy." The paternity claims -- all arriving within days of each other -- have dented the huge popularity that swept the former bishop into the presidency in August, ending 61 years of one-party conservative rule in his poor South American nation.
Lugo gave up his priestly robes in December 2007 to stand for election. But a Roman Catholic bishop, Rogelio Livieres, alleged this week that Lugo surrendered his clerical post after written claims from at least two women that he had fathered their children.
In the latest case, a 39-year old day-care center director, Damiana Hortensia Moran Amarilla, said this week Lugo was the father of her 16-month-old son.
She also alleged he had fathered at least six children in total with various women. Later Friday Moran said she would seek court action to prove Lugo fathered her son, John Paul.