Tuanie Ismail sees god in the details, which is why his built-to-scale, model replica of the Dutch East India Company's merchant ship Avondster features tiny cannons complete with wheels, barrels for ballast, and handwoven muslin sails - there are even going to be bricks in the kitchen! Though he knows the finished product is unlikely to come into contact with saltwater, this does not prevent Tuanie from treating it like it will. He lavishes attention on the joints and places his planks with painstaking precision. And just in case it does take to sea, he's made it a point to put in bilges, through which excess water can be drained.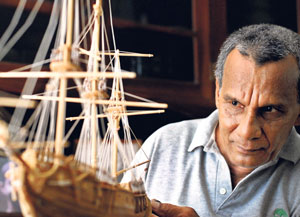 Tuanie's workshop is set in a small but lovely plot of land in Gorakana, which brings the lake right to his doorstep. Between the lake and his house lies a short stretch of garden where petals dot the grass underneath several tall, carefully chosen trees. Standing with him on his jetty, it's easy to see that Tuanie's heart is fairly divided between the fluid water before us and the sturdy wood behind; and that there is little he finds more satisfying than combining his love for both in his profession as a builder of wooden boats. Though his latest project is small by his usual standards, it is thoroughly ambitious, and will take a place of honour in the yet unfinished Dutch Maritime Museum in Galle.
The boat that the model represents - The Avondster - sank sometime in mid-1659. After nearly two centuries, the ship was identified by the Galle Harbour Project in 1993, where it lay in two neat pieces, buried in the sandy bottom of the harbour. Though her exact age is unknown; the Avonster was first recorded as the John and Thomas, by the English East India Company. In her heyday, the 100 foot vessel would have carried 60 people, plus merchandise, creating conditions that Tuanie describes as probably being pretty cramped.
Renamed 'The Blessing', the ship was eventually appropriated by the Dutch in 1653; and prior to that fateful evening had been ferrying spices, arecanuts and wine across the Indian Ocean. But it was widely acknowledged that The Avondster's best days were already behind her when her irresponsible crew saw her to a watery grave.
In a scathing report naming all those who might be held responsible, the VOC's officials recorded: '… the old yacht Avondster in Gallons Bay, after slipping her anchor rope… because of bad supervision was wrecked… struck ground and broke immediately in front of the garden of Marcus Lasseres, and the outcoming river on the side of the mountain.'
Tuanie's model Avondster is built to a 1:10 scale, and is now 10 feet long. He is nearly half way through creating the planked hull with slender, flexible strips of wood that he bends into precise curves. By the time he's finished the model will be 15 feet and quite the biggest of its kind that Tuanie has worked on, topping out at 10 feet high. Without much in the way of official drawings and arrangements, he says he has had to make do with photographs and measurements of the still submerged frame of the ship – "using these we extended it, projected it to see if we'd got the right shape".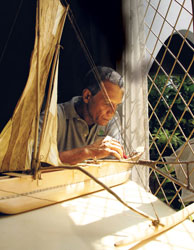 Tuanie engrossed in his work and inset the model of Avondster.
He is preparing a cross section of the mid-section which will showcase the interiors of the Avondster. Gesturing, he indicates the body of the ship – "it had three layers of timber, these were the good layers, and this was the sacrificial layer". In times when anti-fouling paint was still a dream, boat builders were prepared to sacrifice the outer layers to worms – knowing that these could then be frequently replaced with cheap wood like oak or pine – and Tuanie has recreated their layering.
The ship will also boast a full complement of sails. To recreate those, Tuanie says "I'll be taking some muslin cloth, crushing it, staining it to give it the appearance of age and then stitching it by hand." In modern times, lead is used to weigh the keel down. But the merchandise carried in the hold would have been kept full with either wine or water to serve the same purpose - ballast to balance out the tall, heavy masts – says Tuanie. "They would also use stones or bricks, and in fact, I'll be making bricks too, for the kitchen." The model will also be able to defend itself with vigour. Miniature armaments include eight canons, complete with the wheels meant to absorb recoil.
Tuanie has had a long affair with carpentry. Explaining that he "does anything in wood" Tuanie reveals that nevertheless much of his experience has been as a boat builder. Beginning with an apprenticeship in the Taos Yacht Company as a young man, Tuanie also studied architecture. Later as an employee of Oman's Al Fairuz, he would help build one of the biggest boats in the world. "Anything bigger than 75 feet is considered a ship, so we reduced one foot, and made it a boat" says Tuanie.
In Oman he would also make model boats and musical instruments. Looking back he laughs – "there was so little to do in Oman...you would have to make your guitar and then you could learn to play it also".
When he returned, he started out on his own, selling The Bass – an American design – that was meant for anglers. Business fell away after the tsunami though. Fishermen with surplus boats flooded the market, selling their vessels plus the engines for the amount Tuanie charged for the boat alone.
Special commissions are now what seem to keep Tuanie going. Though he works with both fibreglass and steel, his great passion remains wood work. "I am one of a dying breed, the last of the species," says Tuanie ruefully. "No one wants to know about wood work anymore but they don't understand that to make a fibre glass boat you need to know wood work."
The model of the Avondster is being created out of the wood of one of Tuanie's own trees. Looking at his trees, he says simply, "to know the wood alone is a blessing" and that with varieties like Kumbuk and Hal Mila, Sri Lanka has the best of it. He works patiently with this raw material and instead of steaming it, he makes it slender. "The thinner it gets, the more flexible the wood is." Patting the incomplete hull affectionately, Tuanie confesses that his deadline is only four months, though something like this ought to take at least two years. Nevertheless, he will have it seaworthy in time - "we could float this but we wouldn't want to - I want it to live longer than the Dutch ship," he smiles, "it's going to the museum."