Beans come in such staggering variety that the Americans alone have been known to experiment with a dozen variants on 15 bean soup - a recipe that traditionally includes not only black beans and chickpea, but various lentils and different types of lima beans. We often underestimate beans says consultant dietician Sigrid S. de Silva explaining that beans are little storehouses that are rich in nutrition and energy. "Beans are to plants what eggs are in the animal world," says Sigrid, "they are meant to support new life, to grow a new plant."
As a dietician, Sigrid often recommends her patients eat beans for their high nutritional value and fibre content. But she also cautions that their calorie content varies depending both on the bean and the recipe. The lentils cooked into dhal, for instance, mount in calorie value when you consider the oil used to temper them, and the coconut milk used to thicken the dish.

As the source of nutrition that propels the plant, beans are also very rich in minerals like iron and magnesium, as well as starch. They even contain a certain amount of fat - which in the case of the popular soybean we extract as oil. But they're still not a substitute for green leafy vegetables which contain significantly larger amounts of folic acid and antioxidants.
Though chickpeas and green soybeans (famous in Japanese cuisine as endame) might look very different, they amount to much the same in terms of their calorific values and their mineral and fat content, says Sigrid - "one can say they would be similar as various types of potatoes would be." Names too can be deceiving - butter bean, for instance, is dubbed so on account of the colour it shares with that delicious spread rather than any fat content. And while they're a great addition to your diet, beans can also be, quite literally, pure poison.
"If not cooked properly for at least 10 minutes, bean seeds are poisonous," says Sigrid, explaining that eating as little as five undercooked pods can result in stomach cramps and diarrhoea. Though these symptoms will most likely pass in a matter of hours, "beans are not meant for raw consumption," she emphasises. Even when properly cooked, beans have a lamentable tendency to induce flatulence, but this can be somewhat reduced by ensuring you cook the beans till they are tender.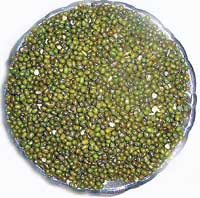 Mung beans
Because of their ubiquity in recipes across the world, you could never accuse beans of being boring fare. Here are a few of them:
Adzuki beans are also known as field peas and red oriental beans. Most often made into a stew with rice, these beans are also surprisingly good in desserts. Cook the beans separately and then boil them together with fresh milk, flour, sugar and coconut milk to create an adzuki pudding.
Chickpeas are also known as garbanzos beans and are famous for being the basic ingredient of hummus and minestrone soup. Soaked, cooked and blended into a paste with a few simple ingredients such as garlic, coriander and olive oil, hummus makes a healthier substitute for mayonnaise and can be used as a dip.
Black-eyed peas are also known as cowpeas and Indian peas and can be incorporated into fritters, bean cakes and salads. Make a black eyed peas and sweet corn salsa by soaking the former overnight and then cooking them into a dish with fresh corn kernels, onions, garlic, coriander and white wine vinegar.
Red kidney beans are an essential element of Cajun cooking with the most famous dish combining red kidney beans in rice with sausages.
Pigeon Peas are often used as a substitute for lima beans and can be made into a thick, delicious soup with fresh beef or chicken, pumpkin, tomato puree, and carrots cut into rounds. Peas 'n' Rice, Bahama style, made with onions, celery, tomatoes and rice is another world favourite.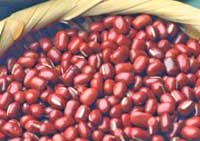 Adzuki beans
Black gram, also known as urad, is very popular in Indian Punjabi cuisine. Tradition there dictates that the gram is combined with fresh tomatoes and some spices and allowed to simmer overnight on a slow fire. Before being served it is finished off with fresh cream or white butter.
Soybeans can be enjoyed in a simple salad. Cook beans well, and while still hot mix beans with oil, vinegar, salt, pepper and garlic. Cover and marinate in the refrigerator for several hours. Stir in scallions, pepper, celery, parsley and dill before refrigerating again.
Mung beans are cherished in Ayurvedic cooking for being full of nutrition and easy to digest. While invalids are fed kitchari - a combination of mung and rice - why not try spicy mung bean pate? To make, combine mung beans with shredded cauliflower and jalapenos along with assorted spices before baking.