W. Ranjith Fernando worries about his auto fare. Paralysed from the waist down for almost six years, even after one spinal cord surgery, getting around is difficult. He still has a living to earn - no longer as a carpenter but as a spray painter.
He is determined to learn some basic skills that will grant him a measure of independence and it is to find help that he has come to the Association for Rehabilitation of Spinal Cord Injuries (ARSCI) in Ragama.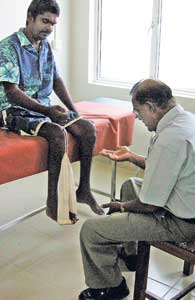 Step by step: Physiotherapist Cyril Sandirigama explains an exercise to patient Ranjith Fernando.
Though there have been no formal studies, doctors estimate that there are 10,000 new cases of spinal injury every year in Sri Lanka, says Dr. Aranjan Karunanayake, Director of the Association. Many injuries are sustained by those in the war zone, but road accidents, infections and tumours claim their fair share. While many patients have mild injuries and stand good chances of recovering, a significant number must learn to live without the use of their arms or legs.
The ARSCI have adopted a holistic approach that supports patients and their families with occupational therapy, physiotherapy, counselling and clinics focused on dealing with some of the most difficult aspects of spinal cord injuries, says Prof. Rajitha Wickremesinghe, Dean of the Faculty of Medicine, University of Kelaniya. Though rehabilitation of SCI patients is undertaken by some public hospitals, ARSCI is the first to be associated with a local university, coming under the Department of Disabilities, of the Faculty of Medicine, University of Kelaniya.
A spinal cord injury (SCI) can disrupt communications between the brain and the rest of the body, resulting in loss of function either in terms of mobility or sensation. Bowel and bladder dysfunction are common in SCI cases, and doctors must always keep a sharp eye out for infections.
Muscle atrophy leaves limbs dangling but the mental strain may prove the bigger challenge. Anxiety and hopelessness can cripple patients struggling to deal with their physical limitations and dwindling options. "They are simply more likely to get depressed," says Dr. Karunanayake adding that many require the support of a counsellor - whom they can find at the centre.
Beginning this February, ASRCI Centre which was funded by the Husein Esufally Charitable Trust moved into its first phase and now provides a range of services to SCI patients. Currently, there are no in-ward facilities, and the centre only accepts patients who are stable - free from respiratory problems and sudden severe fluctuations in blood pressure. "We give them physiotherapy to improve their muscle strength and range of movement, and to improve their endurance," says Dr. Karunanayake.
Specialised clinics, namely a neurological clinic, a urological clinic and gastrointestinal clinic have been set up. Even when the patient is not at the clinic, ASRCI's social service officer makes house calls, and can advise families on low cost adaptations that can make life easier for everyone. Mobile physiotherapy units are on the cards as well, but still a way off - having been reserved for the second stage when more funds are available.
Gamini Liyanage is the centre's occupational therapist. He spends a day or two assessing the patient's capabilities, education and background. "Our final aim is to make them independent," he says but emphasises that in the case of paraplegics and quadriplegics, this must start with exactly the right kind of wheelchair.
Unfortunately, a scarcity of funds is a problem. His ambition is to set up a wheel chair prescription unit where patients are matched to exactly the right kind of wheelchair - ones with built-in pressure release pillows and ventilation in place, which help patients avoid pressure sores. These sores can be "deadly" and Mr. Liyanage blames them for many deaths among SCI patients.
He works in close contact with the centre's physiotherapist Cyril Sandirigama. Mr. Fernando is in the physiotherapist's room when we go in, working his calves and ankles. Another point of focus is on strengthening the upper torso, so that SCI patients can make the most of their arms.
Mr. Sandirigama's sessions, which on average take up over an hour, are one on one. Acting as part-coach, part cheerleader, he encourages and pushes his patients to help them overcome their mobility problems.
Such sessions are usually reserved for the mornings, says Dr. Karunanayake, adding that the clinic has set up a help desk where from 8 a.m. to 5 p.m., Monday to Friday, patients can contact the clinic's staff, who will help with any queries. Often the caller might be a family member- for ASRCI provides in-home training and extends their counselling services to family members and caregivers as well.
Talking about patients' families, Dr. Karunanayake says that it often becomes too much for a single person to care for a severely disabled family member. "We train them how to move the patient, because if they move the patient in an incorrect way they can sustain injuries of their own." Unemployment too is a spectre that haunts both patients and their care givers - both of whom might have trouble making it to work every day.
"In Sri Lanka there are many patients who have sustained spinal cord injuries and the hospitals can't cope with the load," says Dr. Karunanayake, adding "when these patients are discharged and there is no follow-up they can deteriorate very quickly."
The centre welcomes volunteers and donors who are willing to contribute towards wheelchairs, travelling allowances and some of the equipment the centre needs so badly. One of the most obvious requirements is that for a lift, for without it wheelchair-bound patients are currently unable to access the facility's upper floor.
ARSCI Helpline: 011 - 2958251. Web: www.arsci.lk