The cremation of well-known artist Stanley Kirinde will take place tomorrow afternoon at the Borella Cemetery.
The late Mr. Kirinde, who passed away on Friday, was one of Sri Lanka's best-known post-Independence artists. He was educated at Trinity College, Kandy, and received his higher education at the University of Ceylon. Upon graduation he joined the public service, and retired as the State Secretary of the Ministry of Ports and Shipping in 1990.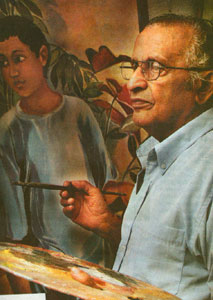 Stanley Kirinde
Mr. Kirinde was a self-taught artist whose work is found in private and public art collections around the world. Some of his best-known works include portraits of former Indian President Shri K. R. Narayanan, commissioned by the Indian government, and of former Sri Lanka Foreign Minister, the late Lakshman Kadirgamar.
Mr. Kirinde's work has been featured at international art exhibitions, and has adorned such venues as the Smithsonian Institution in Washington DC, in the US, and the Festival of Asian Art in Fukuoka, Japan.
More recently, Mr. Kirinde was one of the artists featured in the landmark 2005 exhibition of South Asian contemporary art, "Colours of Karma", presented at the Nehru Centre in London.
He also worked on mosaic murals for institutional headquarters, as well as historical paintings that form part of the President's House Collection.
The cortege will leave the Kirinde residence at No. 1, Diyawanna Gardens, Pelawatta, at 2.15 pm. The cremation is scheduled to be held at 3.30 pm at the Borella Cemetery.