Presidential Advisor Basil Rajapaksa claimed yesterday that LTTE leader Velupillai Prabhakaran was planning a mass suicide involving himself and hundreds of hardcore cadres on the beaches of Mullaitivu as the security forces continued to close in from several directions.
Mr. Rajapaksa told The Sunday Times there was substantive information regarding the mass suicide planned by the LTTE leader who had claimed that more civilians had also pledged to join in the mass suicide.
He said that according to intelligence gathered by state agencies, the remnants of the LTTE were planning a major public show of the event and had begun directing civilians towards this beachhead where the event would be videoed and distributed to the Tamil Diaspora to keep the Eelam struggle going.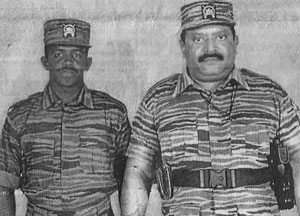 Prabhakaran with a Sea Tiger suicide cadre
"It is not clear if the civilians were forced to put their names on the death list or had done it voluntarily. However, the paramount concern of the Government is to try and get the non-combatants out of the area at the earliest," Mr. Rajapaksa said.
The latest developments come in the wake of crippling blows dealt on the rebels who have continued to lose more and more ground along with their fortified dwellings, vehicles, ammunition dumps and other logistics bases. In addition, several of their frontline fighters and leaders were also reportedly killed in sorties carried out by the Air Force over the recent days.
Meanwhile, pro-guerrilla websites yesterday carried pictures of Mr. Prabhakaran with four Sea Tiger suicide cadres who later died in a sea battle on February 8. (See pic) The guerrillas claimed a Dvora was sunk and another was damaged in the attack, which killed 15 navy officers. The military, however, denied the claim.