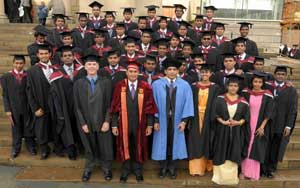 SLIIT students who graduated with flying colours from Sheffield Hallam University recently. Standing from left to right Mr Robert Harris - Head of International Development for the Faculty of Arts, Computing, Engineering, and Sciences at SHU, Professor Lalith Gamage - Managing Director / CEO of SLIIT, Mr Terrence Perera - Assistant Dean, Academic Resources for the Faculty of Arts, Computing, Engineering, And Sciences at SHU.
Sixty Two (62) students from Sri Lanka Institute of Information Technology (SLIIT) have graduated with flying colours from the Sheffield Hallam University, UK (SHU) at its recent Convocation. This batch of sixty students, the third batch, forms the largest SLIIT transfer student group to date. All these students received First and Second class Honours Degrees in the fields of Information Technology (IT), Software Engineering and Computer Systems & Networking.
"We are proud of our third batch of students who have performed exceptionally well at SHU" said a delighted Professor Lalith Gamage Managing Director / CEO of SLIIT. "Thirteen number of our students obtained first class Honours, another thirty three received Second class Honours, Upper division and another 16 obtained Second class Honours, Lower Division passes. We place great emphasis on the quality of our education programmes and our graduates. This is strong evidence as to why and how SLIIT students graduate with flying colours in the SHU graduation each year. I take this opportunity to congratulate our students and to wish them best of luck in their future endeavors" he went on to say.
Chairman and President of SLIIT Professor S. Karunaratne said "SLIIT is committed to bringing the best of education and training in IT not only to its regular students but also to a wide cross section of our society. Our commitment is reflected in the exemplary performance of our students at the SHU Graduation" he concluded.
SLIIT the leading premier degree awarding institute in the country has been in formal partnership with SHU since year 2006. SHU is the sixth largest education institution in the United Kingdom. It is one of UK's most progressive and innovative universities with a vibrant and diverse student population and partnerships across the world.
At present SHU offers several courses for SLIIT students in the Summer Semester Programme and Continuation Master Scheme. The three courses that allow students to top up their studies to a UK Honours Degree are in Information Technology, Computer Systems & Networking and Software Engineering. The latest addition has been a Bachelor's Degree in Business Administration.
According to the agreement between SLIIT and SHU, students of SLIIT specializing in IT, Information systems (IS) and Computer Systems & Networking (CSN) will have the opportunity to study for two and a half years at SLIIT and proceed to SHU for a summer term to obtain their B.Sc. Honours Degree qualification in the respective disciplines.
Without a doubt SLIIT is a centre of excellence in IT education and training and aided by world class, prestigious institutions like the Sheffield Hallam University, it offers all its students the knowledge and expert guidance to reach the highest pinnacle of achievement.