Following classics such as 1998's Lock, Stock and Two Smoking Barrels and Snatch in 2000, director Guy Ritchie quietly disappeared from the scenes occasionally been featured on television when referenced with his superstar wife, Madonna. Two scruffy projects followed Ritchie's initial success. Swept Away in 2002 was a true testament of why love and work should never be mixed while, Revolver in 2005 was too complicated and untidy to enjoy. The time was clearly ripe for Ritchie to head back to the drawing board and give the audience a taste of what has truly made him an iconic director sprouting cult classics for fun.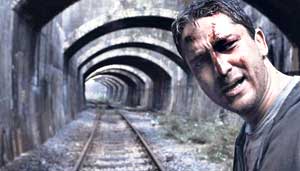 As all Guy Ritchie films in the past, giving a synopsis of his plots is no simple task for anyone. The story is narrated by the street smart Archie (Mark Strong) second hand man to Lenny Cole played by Tom Wilkinson (The Full Monty, Michael Clayton), a crime boss in London and the self-proclaimed guardian of the underworld. Lenny is asked to help push through a lucrative land deal by Russian property dealer Uri Omovich (Karel Roden) who, as a sign of good faith, lends Lenny his lucky painting which the audience never gets to glimpse. In classic Guy Ritchie style all the characters and parallel storylines meet in a climactic ending which also serves as a prologue to the real RocknRolla.
If you loved Lock, Stock and Snatch you are guaranteed to love RocknRolla due to the simple fact that Guy Ritchie has finally delivered another finely crafted caper comedy without the over embroidery seen in Revolver. Tom Wilkinson is great as the bumbling crime lord while Gerard Butler who plays the lead role of the opportunistic and charismatic mobster, One Two was humorous and memorable. The beautiful Thandie Newton characteristically does a great job as the sly accountant Stella.
The film does little wrong and is certainly worthy to be up there with the likes of Ritchie's best work. With Hollywood spitting up heaps of clichéd crime thrillers and comic book adaptations RocknRolla is certainly a refreshing sight for bored eyes.