ISLAMABAD, Jan 17, (AFP) -British Foreign Secretary David Miliband left here Saturday after holding talks with Pakistan's army chief during a visit aimed at defusing tensions with India after the Mumbai attacks, officials said.
Relations between the nuclear-armed neighbours have deteriorated dramatically since the November attacks in which 174 people died, including nine gunmen.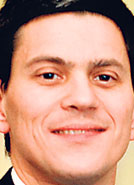 David Miliband
Miliband held talks Saturday with Pakistan's army chief General Ashfaq Kayani on the tense situation on the country's borders with India and Afghanistan, an official said giving no further details.
The head of India's army confirmed this week that Pakistan has redeployed troops along the two countries' tense border, but said he regarded war as a "last resort." The nuclear-armed South Asian neighbours – which have fought two of their three wars since independence from Britain over Kashmir -- have said they do not want to go to war again.
However, India and Pakistan have engaged in a series of tit-for-tat accusations since the attacks, with each side saying the other is guilty of whipping up "war hysteria".
The top British diplomat reiterated that the Mumbai attacks were carried out by Lashkar-e-Taiba (LeT) operating from Pakistani territory and urged Islamabad to act more quickly against extremist networks.
"The whole international community wants Pakistan to go further and go faster," he told a press conference in Islamabad late Friday after meeting President Asif Ali Zardari, Prime Minister Yousuf Raza Gilani and his Pakistani counterpart, Shah Mehmood Qureshi.