GAZA Jan 17 (Reuters) -Israeli warplanes returned to the attack on the Gaza Strip before first light on Saturday as leaders of the Jewish state weighed a unilateral ceasefire.
Political sources said a decision could come by evening. The government of Prime Minister Ehud Olmert may declare a halt to the three-week-old offensive without concluding any deal with Hamas-led militants who control Gaza, they said.
After a relatively quiet night of only sporadic gunfire, the sound of jet aircraft at about 0300 GMT was followed by several heavy explosions flashing in the night from unseen targets, mainly to the south of the city of Gaza.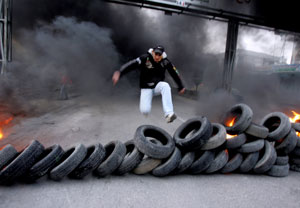 A Palestinian youth jumps over burning tyres during clashes with Israeli forces in the Gaza Strip on Friday
More than 1,150 Palestinians have been killed and 5,100 wounded since Israel began attacking Gaza with an air blitz on Dec. 27, then moved in with ground forces a week later.
A large majority of the dead were civilians. Ten Israeli soldiers have died in the fighting and three Israeli civilians have been killed by rockets fired from Gaza. Olmert called a Saturday night security cabinet session to decide on a ceasefire, which could come less than 72 hours before the inauguration of Barack Obama as U.S. president.
Some say Israel wants to avoid casting a cloud on a historic day for its main ally. Israeli public support for the offensive has been almost total, but international calls for an end to the bloodshed are mounting.
An overwhelming majority of states at the U.N. General Assembly called on Friday for an immediate, durable ceasefire. Diplomats said it presented a cohesive, moderate world viewpoint that would strengthen Egyptian mediating efforts.
The unending pain of Gaza civilians is also harrowing. Israeli television on Friday broadcast desperate cries for help from a Palestinian doctor whose children had just been killed in an Israeli attack.
"I want to know why they were killed, who gave the order?" Izz el-Deen Aboul Aishhe cried in a voice shaking with emotion. Troops later helped the family's survivors.
Dismissing notions of "proportionate" response, Israel struck on Dec. 27 with a "shock and awe" night of bombing and has used devastating firepower every day since to stop militants firing rockets at Israel civilians in southern cities.