NEW YORK - At a news conference in Jerusalem last week, Secretary-General Ban Ki-moon made a politically indefensible statement when he said that "Israel is one of the responsible members of the United Nations."
Responsible? Israel? Perhaps in reality, Israel could be best described as one of the "pariah" members of the United Nations.
The Secretary-General, who was apparently polite to his host, also tried to be "even-handed". He criticised both Israel and Hamas for the brutal conflict, now entering its fourth week.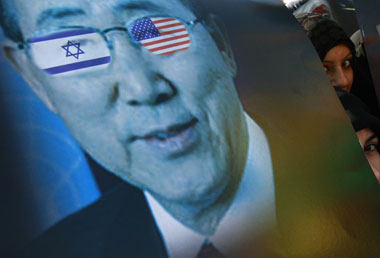 Lebanese Hezbollah supporters who gathered outside the UN office in Beirut peer from behind a poster depicting U.N. Secretary-General Ban Ki-moon sporting a pair of spectacles with US and Israeli flag. Ban met Lebanese leaders yesterday. REUTERS
How can you be realistically even-handed in a war that is not being fought on a level playing field?
Israel is armed with some of the world's most sophisticated fighter planes, missiles, battle tanks, armoured personnel carriers and heavy artillery, mostly US-made, compared to the crude rockets fired by Hamas.
In one of the memorable scenes in the 1967 classic movie, the "Battle of Algiers", a leader of Algeria's war of independence, Ben M'Hidi, is brought handcuffed and shackled before a group of highly-partisan French journalists for intense media interrogation.
One of the journalists asks M'Hidi: "Don't you think it is a bit cowardly to use women's handbags and baskets to carry explosive devices that kill so many innocent people?"
The Algerian insurgent turns to the reporter and says with equal bluntness: "And doesn't it seem to you even more cowardly to drop napalm bombs on unarmed villages on thousand times more innocent victims?"
And then he shoots the punch line: "Of course, if we had your fighter planes, it would be a lot easier for us. Give us your bombers, and you can have our handbags and baskets."
Perhaps it would be interesting to see the roles reversed in Gaza: the Palestinians with American fighter planes and M60 battle tanks and the Israelis with home-made rockets.
Although the Secretary-General qualified his remark in Jerusalem last week by pointing out that Israel has a responsibility to fully comply and implement any Security Council resolution, his description of Israel as a "responsible member" of the UN was far off the mark.
Israel is perhaps the only UN member state that has refused to implement all of the key resolutions of both the Security Council and the General Assembly (which adopts over 20 resolutions every year on Israel and Palestine).
But its current war against Hamas has proved once again why Israel should be treated as an international outcast and brought before a tribunal on charges of committing war crimes and genocide against the Palestinians. As the slaughter of Palestinians continues, the world is watching the horrors of the conflict with plenty of empty rhetoric but hardly any credible action.
According to the Israeli military, its air force has unleashed more than 2,300 air strikes on Gaza which, along with the firing of artillery shells on the ground, have killed over 1,100 Palestinians, mostly women and children, and wounded over 4,500. In comparison, the Israeli toll so far is 13.
Israel continues not only to defy the UN by refusing to abide by last week's Security Council resolution calling for a ceasefire but also targeting UN buildings and warehouses. The bombings are justified on a blatant lie: that the Israeli military was responding to Hamas fire from the neighbourhood. Every single such accusation has been contradicted by UN officials on the ground.
Still, the US and the Western world, who remain outraged by the killings in Darfur, Somalia and the Democratic Republic of Congo, are either refusing to denounce Israel or tempering their criticism of the Jewish state despite the continuing military carnage.
Last week, Ban Ki-moon plucked up courage to say he was "outraged" that another artillery shell had hit the headquarters of the UN Relief and Works Agency (UNRWA) -- even as he was on a visit to Israel.
Following his protest, Israeli Defence Minister Ehud Barak admitted it was "a grave mistake" and assured the secretary-general that "extra attention" would be paid in the future to UN facilities, a frequent target of Israeli attacks. But that would not prevent further attacks -- "mistakenly" -- on UN compounds in Gaza.
Meanwhile, Human Rights Watch has condemned Israel's use of heavy artillery in residential areas of Gaza which "violates the prohibition under the law of war against indiscriminate attacks."
Firing 155mm shell into the centre of Gaza city, whatever the target, will likely cause horrific civilian casualties, says HRW. The London-based Amnesty International has asked the Security Council "to take firm action to ensure full accountability for war crimes and other serious abuses of international human rights and humanitarian law."
And the UN High Commissioner for Human Rights Navi Pillay told a special session of the Human Rights Council (HRC) in Geneva last week that accountability must be ensured for violations of international law. "I remind this Council that violations of international humanitarian law may constitute war crimes for which individual criminal responsibility may be invoked."
Perhaps one of the best observations of the ruthless Israeli military tactics came from John Ging who heads UNRWA in Gaza. Said Ging: "We don't, in a civilized war, shoot the hostage to get to the hostage taker."