My dear friend Elanga Devapriya Wikramanayake passed away from our midst last month. He was at the time of his death over three score years and ten, but during the last two decades of his life was stricken by an illness which many believed was not properly diagnosed, but which he bore bravely and with great fortitude. At first, despite the seriousness of his illness through sheer determination, he bore it up so courageously and fought back so hard that he was able to resume his professional work for some time. In this he was blessed with the devoted love, care, and nursing of his wife Sunethra and children.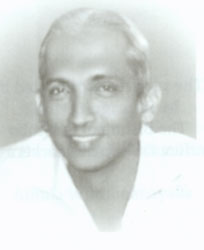 He belonged to a distinguished family of lawyers and very appropriately acquired recognition at a very young age as Solicitor General and was bestowed the title of Deshamanya, and such honours come by rarely. ED as everyone knows was the son of a very famous lawyer E.B.Wikramanayake Q.C. who passed away a few years ago. ED triumphed in fighting his illness in a most remarkable way and was able to resume some of his former activities which he loved so much including visits to the jungle, and driving a specially modified jeep to the astonishment of many of his friends. He was a great marksman (winning the Governor-General's Cup for rifle shooting at the young age of nineteen) and an enthusiastic angler.
ED and I were associated on opposite sides on many occasions and I have always found him to be a gentleman and worthy opponent at the Bar. He was leading for the Crown in the Criminal Justice Commission and I was defending notable personalities. Although convicted by the Commission, they were all acquitted when the new Government of the UNP came into office. In consequence some of the persons involved who were powerful political figures made life and promotions difficult for ED and he himself resolved to resign from the department bringing to an end a distinguished career. Needless to say he had one of the most acute minds in legal analysis at the Bar and there were many who consulted him on legal questions in difficult matters when he reverted to the unofficial Bar.
ED in his style of advocacy was remarkable in that his submissions were short and to the point. He was highly respected when in active practice and a model for young lawyers to follow – because he disdained any flamboyance in the presentation of his case.
He and his wife Sunethra celebrated 50 years of marriage a few years ago and they enjoyed the pleasures of a large happy family. Many who knew him at the Bar valued his friendship and admired his integrity. We thank God for his life and memory.
By H.L.de Silva