The 5th International Cancer Congress of SAARC Countries organized by the Sri Lanka College of Oncologists will be held on January 10 and 11 at the Mahaweli Reach Hotel, Kandy.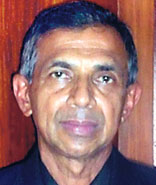 Dr. Wattegama
The meeting in Kandy would be a landmark event for the region as the draft constitution of the proposed SAARC Federation of Oncologists is to be formally announced here.
Extensive discussions on establishing a SAARC Federation of Oncologists were held at previous congresses held in Dhaka, Kathmandu, Goa and Karachchi, the President of the Sri Lanka College of Oncologists, Dr. Sarath Wattegama said.
The theme of the 2009 congress is 'Expanding horizons in cancer therapy and prevention'. The Chief Guest will be Dr. Peter Boyle, Director of the International Agency for Research on Cancer, World Health Organization, based in France.
A talk on Sinhala fictional criticism
Prof. Wimal Dissanayake will deliver a talk on the 'Three Stages in Sinhala Fictional Criticism' today at 3.45 p.m. at the Namel Malini Punchi Theatre, Borella, based on his latest work 'The Sinhala Novel and the Public Sphere: Three Illustrative Moments' to coincide with its launch today along with 'Unsought Mirror: Decline of the Novel' by Gunadasa Amarasekera.