A new year has come round, ending the old, marked by violence, tension and economic drawbacks. What does 2009 hold not only for Sri Lanka but also for its people?
The war will end and the country will prosper, says one well-known star-gazer while another says the calm will only be short-lived.
Astrologer Wimalasiri Sellaperuma from Panadura is optimistic in the new year. "The country's most pressing problem, the war, will come to an end in September," he says, explaining that August is favourable for the military.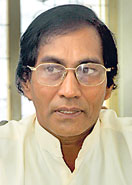 Astrologer Wimalasiri Sellaperuma
However, he warns, that there will be a period of bloodshed with much property being lost as well. In the first six months public property may be destroyed and explosions are likely to take place at some significant locations, he says.
Earmarking January 15 to February 13, he points out that even those who are supporting the government could oppose it, while in March and April, not only will there be crossovers from the opposition to the government but also the other way round.
"April and May are a dangerous period for a leader," warns Mr. Sellaperuma, adding that June 15 to July 15 will be a relatively calm period for the country.
After September, the country will experience prosperity, says Mr. Sellaperuma, with economic growth and an inflow of foreign exchange. Industries and agriculture will flourish. The government will receive the support of opposition parties. In the latter half of the year, Sri Lankan sportsmen and women will achieve great heights in the international arena, he says.
People should engage in religious activities, urges Mr. Sellaperuma, advising temples to chant the thun suthra from 5.45 to 6.45 p.m.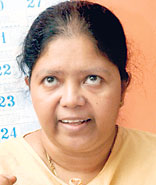 Chintha Wickremasinghe
Aquarius being the zodiac sign for Sri Lanka this year, another astrologer, Chintha Wickremasinghe from Boralasgamuwa predicted gloom until May. There will be an economic crisis with banks being affected.
Many intellectuals will leave the country. Violence will escalate and there will be political turmoil. Problems will crop up between relatives engaging in politics, she says. From May 2 to July 30 will be relatively calm with gains at the warfront. "It will seem as if the war is over during this period, but that peace will only be shortlived," she says.
The year will also be dotted with elections – in addition to the Provincial Council elections in February, two more polls will take place around May/June and August/September.
The public should be vigilant. They should be careful of water, fire and road accidents, she warned. Solar eclipses on January 26 and July 22 and lunar eclipses on February 9, July 7 and August 6 will have a negative impact on the country. On the brighter side, there would be achievements in the field of arts and sports, infrastructure development and foreign aid flow, she added.