Think art exhibition; but banish from your mind all thoughts of small stuffy rooms and serious looking collectors. Identity 101 is all about accessible art, so accessible in fact that you can actually wear it. In a unique exhibition to be held at Casa Colombo, 101 t-shirts featuring original designs by 13 international artists will be sold. Each is one of a kind, insuring that you're never going to bump into anyone who has one that looks like yours.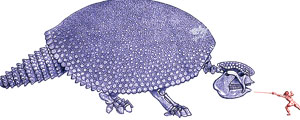 Designs by Deshan Tennekoon and Asvajit Boyle
The exhibition is designed to encourage young artists, many of whom haven't had a chance to exhibit before. Working as graphic designers, photographers, actors and even writers, each of them bring an interesting, fresh perspective to their chosen medium. The exhibition's somewhat unique concept challenges conventional notions of art, both for the creator and the buyer, which is probably why it hasn't been done before in Sri Lanka.
In the unlikely event that you're not into it for the comfy designer togs, the organisers are counting on you loving the music. Two of Colombo's stellar young bands – Thriloka and Powercut Circus – will also be playing at the venue. The idea is to drop in, eat, drink, be merry, and hopefully, walk out with a t-shirt you'll love for life. Prices begin at 1500/-, but may vary depending on the intricacy and scope of the design.
The venue is also worth a mention. Casa Colombo has been billed as the "hottest Retro Chic Boutique Hotel in Sri Lanka." Housed in a 200-year-old Moorish mansion, the luxurious heritage hotel is definitely worth a visit.
Here are a couple of the artists being featured: Lanil Peris is currently studying in Melbourne, Australia. An award winning Art Director, his passion for photography and the fine arts all find expression in his collection.
You may know Ruvin de Silva from his role in productions Enda Walsh's Chatroom, Geoffrey Case's Samurai both of which were directed by Tracy Holsinger. Ruvin also works as a freelance graphic designer and has travelled all over the island with his camera.
Niyati Upadhya has always expressed herself through the mediums of colour, texture, space and sound. Whether through Indian classical vocal music, tabla, pottery, sculpture, short animation films, or sketching, she has found innovative ways to voice her ideas. She is currently a second year Fine Arts student specialising in sculpture at Rachna Sansad, Mumbai.
Sahej Rahal describes himself as an "artist and a producer of culture." He is passionate about exploring as many media as possible, and has experimented with everything from sculpture to sneakers, traditional to digital, film, walls and even dustbins.
Harmeet Rahal has been a lifelong fan of the visual arts. Having taught himself how to use imaging software at a very young age, he loves to tinker with programs like cinema 4d and photoshop.
Asvajit Boyle is an artist, designer and musician. After a brief stint in advertising, he now works as a freelance layout artist. He also makes music, both with the very popular band Powercut Circus for which he is the guitarist and on as an independent artist.
Some of the other participating artists are: Deshan Tennekoon, Kumkum Fernando, Mudith Jayasekera, Udesh Hettiarachchi, Thilini Perera, Mika Tennekoon and Anjana Chetty.
Check out Identity 101 on January 10, 2009. The event begins at 4.30pm and ends at 8.30.