By Gayani Perera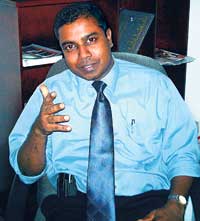 Private degrees and other professional qualifications have opened up new avenues for students who have been unable to enter the local university system. Today the Chartered Institute of Marketing (CIM) has established itself as the leading professional body in marketing and has added on quality and professionalism when compared to some of the other private degree programmes in Sri Lanka that are offered by private institutions affiliated with foreign universities. The Sunday Times spoke to Mr. Ajith Medis, Board Member and Head of Education of CIM Sri Lanka Region, to find out the CIM's contribution towards taking marketing to the country's local education system.
"With the introduction of the new syllabus, the CIM qualification is now more focused on the local market. With our new syllabus change which is effective from this year, CIM UK has introduced 75% of its subjects to be non exam based but assignment based which is very favorable to our Sri Lankan markets. Students will therefore receive the opportunity to work alongside a tutor for a period of six months in order to develop an assignment which is relevant to Sri Lanka, which will therefore contribute towards developing the CIM qualification to be more customized to the Sri Lankan environment", says Mr. Medis.
CIM students are also performing well in the market due the high levels of delivery of the CIM subjects which are conducted by the experienced panel of tutors and lecturers who are in most cases fully involved and committed with regards to the teaching process. The industry has also realized the importance of the CIM qualification for which presently there is a high demand.
"We have also started to take the CIM qualification to the villages for which we have already established two accredited study centres in Kandy and Matara. Plans are also under way to establish an accredited study centre in the area of Kurunegala. We have also started to establish marketing clubs in schools in Kandy and Kurunegala areas as we wanted to give prominence to students in the outstation areas. Through our marketing clubs we provide financial assistance to the schools in order to promote marketing as a career choice among the student communities and we have already made plans to promote these clubs within the district of Colombo as well", further stated Mr. Medis.
The CIM has also taken initiatives to educate school children and teachers on the importance of marketing by conducting programmes with help of the Education Ministry. Over the last few years the CIM student base has increased significantly, for which currently the CIM has a student base of approximately 3000. The CIM qualification can only be taught by a selected number of accredited tuition centres in the country which are approved by CIM Sri Lanka as well as CIM UK. These centres are continuously monitored and checked in the areas of lecturing, student facilities, course materials etc. At present the CIM has seven accredited tuition centres in Colombo, two in Kandy and one in Matara. These tuition centres have the best facilities provided to CIM students, which include air conditioned classrooms, computer facilities, cafeterias etc., thereby making their learning environments more pleasant for them to study.
"CIM accredited centers also develop soft skills of students which has become an essential in today's competitive industry requirements. Therefore today's CIM qualification has become a highly employable qualification in the current context. We have already signed MOU's with local Universities, where in which we support the university's marketing departments providing them with the required financial facilities in addition to establishing separate marketing clubs with the intention of improving the students marketing skills. We have also selected 10 national universities in order to identify the best students and to reward them with gold medals and cash prizes, this will also help to develop and promote the marketing skills and talents of university students.
The marketing field has to be improved in this country; the main reason for this is due to the fact that we lack good marketing qualifications which offer the expertise to build good brands which can be taken to unexplored foreign territories. Building such brands will also contribute immensely towards bringing about foreign funds to Sri Lanka. This has therefore become the key target of CIM, where in which we aim to nurture and develop future Sri Lankan marketers who will also have a global perspective with regards to brand building", concluded Mr. Medis.