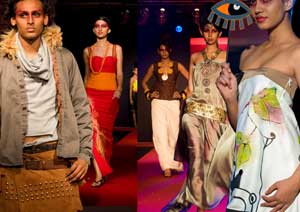 At the Academy of Design (AOD), Colombo's leading Fashion design School, Fashion is not considered a hobby but a serious education discipline".
The undergraduate Fashion Design program at AOD provides students with the intellectual, conceptual, and technical skills that enable them to be professional fashion designers". An international faculty, State of the Art Facilities and very current practice in Fashion through many international collaborations; AOD is undoubtedly Colombo's premier institute to study Fashion Design. With many of its graduates working most of the top companies in Industry to some starting their own successful businesses to many working and studying abroad, AOD ensures they have a solid start to their future.

At AOD, students learn how to develop a fashion from concept to the finished product. Exposure to a complete range of technical skills in model drawing, pattern drafting, draping, illustration, textile design, fashion history are introduced along with a variety of other design related subjects and business subjects to give students a solid start along with digital design forming a substantial component of their studies taught at the state of the Art Digital Design Computer Lab at AOD.
At the end of their studies, a professional runway show highlights the designs created by these fashion students. For this Annual Fashion Show students plan and produce all aspects of the garments, from inspiration to final execution. Each year, the fashion show receives applause from a very large and distinguished audience. The academy held its annual graduation fashion show this year, on the 28th of August. Pictures of the show are highlighted in this article.

AOD graduates are sought after for jobs and every student who has left the corridors of AOD has left either with a job offer or an offer to study abroad. Being the pioneer in Design education in the country and considering the high quality education the students receive, AOD enjoys an enviable reputation. As it enters its ninth year as a school of Design, AOD is proud of its success and the evolution of its programs and what it has grown to become. Today it offers undergraduate programs in further design disciplines in Fashion, Interior and Graphic Design and an option for students to complete a full Bachelors Degree in any one of these disciplines right here in Sri Lanka. Its newest additional is a Jewellery Design program one which is much needed by the industry here.

AOD has much to offer: first-rate international teaching faculty, a comprehensive and challenging academic program, a central facility amidst all the art galleries of which combine to make it the best place to study Fashion design in the country. Its unique position enables its students to achieve incomparable focus in the classroom and subsequent success in an ever expanding and competitive workplace. We hope that having read this, you will share our enthusiasm the study of design. We look forward to welcoming you to AOD and all that it offers.
For further information contact: The Academy of Design (AOD), No 33 1/1 Queens Road, Colombo 03. Tel: 5742480, 5742490, 5867772 - 3, 2502850, www.aod.lk