By Smriti Daniel, Pix by Berty Mendis
Barbara Avossa-Gamage counts her grandmother's recipe book amongst her most cherished possessions. Today, fittingly, the recipes contained within this old, beribboned diary are finding new life at the Regina Margherita – Colombo's newest Italian restaurant. The proprietors' quest to serve only the most authentic Italian cuisine finds delicious life in a menu that features a wonderful array of handmade pasta being made in-house and speciality meats, cheeses, wines combined with other ingredients imported especially for the restaurant. But the crowning glory of the Regina Margherita may very well be the wood-fired brick oven for pizzas – Colombo's first – and, wonder of wonders, a pizza chef, flown down especially from Italy.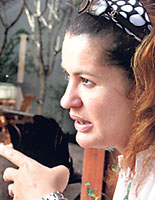 Barbara
It's been five years since Barbara decided to settle down in Sri Lanka. She's spent most of her time down south, where with her husband Dimithu Gamage she owned and managed the Galleria restaurant in Galle. The shift to Colombo, prompted by their two children beginning schooling, has led to the opening of the Regina Margherita. Barbara is an exuberant, welcoming person and for her the restaurant is meant to be nothing less than a complete Italian experience. She brings to the table not only a deep love and appreciation of Italian cooking, but the warm hospitality that the country is renowned for.
The restaurant, itself, with its warm terracotta interiors, and small "fountain" courtyard can hold up to 62 people. Green checked table cloths, flagons of wine and dish after dish mark the course of a leisurely meal here. Basics like olive oil, fresh basil and parmesan cheese are all flavours intrinsic to her cooking, says Barbara, adding that the quality of the ingredients is everything. The menu which features the likes of Italian Antipasto, veal tenderloin, and fresh seafood also has a range of pizza. The handmade pasta is accompanied by a range of sauces including quarto al formaggi – or four cheese sauce. Helping Barbara in the kitchen are two other chefs, both of whom have lived and worked in Italy for some time; some may know Chef Raja by his former position as the chef at the Italian Embassy in Colombo.
The pizzas are likely to be the biggest draw. The thin rounds, loaded with Italian favourites are flavoured by the wood fire over which they are baked. When stocked with dry cinnamon wood, temperatures inside the oven reach 350–400 degrees centigrade and it takes pizza chef Luigi approximately 3 1/2 hours to bake a single pizza. In Luigi, Regina Margherita boasts another connoisseur of Italian cooking. At the heart of his native cuisine are the "associations", Luigi explains, for example between cheese and wine - for every meal, there is the correct wine. Barbara's cellar stocks a range of Italian wines, with a few more soon to be added. To finish off the meal, Barbara plans to offer traditional Italian desserts like tiramisu, crustcake and affogato, again drawn in part from her grandmother's recipes.
Delicacies like parma ham and the paper-thin bresaola beef (served with rucola leaves) are far from common, but Barbara has not only added them to the menu, she has also made them available for purchase at the little kiosk at the entrance. Displayed alongside are other mouth-watering, yet hard to find Italian classics including quality mozzarella, salami felino, salami milano, gorgonzola, and mortadella. Soon, ready to cook portions of ravioli, gnocchi and lasagna among others will also be on sale at the kiosk. Barbara adds that home delivery will be up and running within two months.
The appreciation of fine food seems to run in Barbara's blood. A lawyer with a degree in criminal law, Barbara says her true inspiration continues to come from her family.
Her best memories as a child are of sitting in her grandmother's restaurant - La Sambuca in Milan - learning to make handmade pasta and meatballs. It is an experience that she hopes to gift to her own children.
Regina Margherita's business hours are from 10.30 a.m. to 11.00 p.m. Address: No 151, Park Road, Colombo 5. Tel: 011-7394440/1/2/3