The author has much experience in basic and more sophisticated surgery in district and teaching hospitals in Sri Lanka and the United Kingdom and also as an undergraduate and postgraduate examiner in surgery. He is, therefore, familiar with being faced with a variety of clinical problems which have to be solved expeditiously with an awareness of current best practice and available facilities, the interests of patients being kept paramount. He is also familiar with the problems faced by students and young surgical trainees. It is his concern that the next generation develop similar skills that has driven him to write this book.
The book is easy to read -- that does not mean clinical surgery is easy! The book is a companion to the problem-based learning that has to occur at the bedside. While Prof. de Silva acknowledges the help he has got from Leighton Hospital in Crewe and from Sri Lanka in the production of the book, the dedication ("……to all my teachers who spent their time and made the effort to teach")' emphasizes the role of teachers in maximizing the use of this excellent book.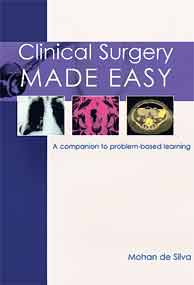 In the Preface the author states that "creating a differential diagnosis and rationalising a treatment plan is a challenging task for medical students. This process will also expose deficiencies in core knowledge and problems in applying knowledge to varied clinical situations. Guided by experienced teachers, students best learn these skills at the bedside. Patients do not always present with classic textbook descriptions. During the limited period of clinical training, students may not receive sufficient exposure to an evidence-based approach and decision making in clinical surgery. Medical schools with problem-based curricula rely heavily on clinical teachers. There is evidence that problem-based learning (PBL) stimulates critical thinking. In addition to clinical exposure, PBL demands focused reading, commitment and enthusiasm to acquire the essential core knowledge.
An alternative method of supplementing the bedside experience is to carefully design a series of common clinical scenarios in general surgery to simulate the clinical decision-making approach, and under each topic, to highlight the essential core knowledge and relevant clinical pathways. This approach will guide students to recognise, recall and apply the relevant facts to given clinical situations. This book presents such an approach. The essential components of core knowledge are presented. The diagnostic and therapeutic approach based on the available guidelines -- and frequently asked questions at examinations are emphasised -- Self-assessment questions are included. Some questions are purposely created outside the parameters discussed, to stimulate the need for further reference on the topic."
A very senior Consultant Surgeon in the Mid Cheshire Hospitals Trust in Britain, David Cade in his foreword reiterates the contents of the foregoing paragraphs and adds that "Professor de Silva's book should help pass examinations and equip the young doctor with an approach from which they can enjoy their clinical experience whilst at the same time benefiting their patients".
The contents include sections dealing with the art of approaching and solving clinical problems, and specific topics such as various hepatico-biliary problems, breast lumps, a variety of common and important gastrointestinal problems, different types of trauma, and vascular, genitourinary, and head and neck complaints. Each chapter starts with a clinical scenario followed by questions and solutions about the best way forward. The knowledge and guidelines necessary for the best management to be made available to the patient are included at each stage as relevant. There are different kinds of self assessment questions and answers in each chapter. The pattern of presentation is meant to be a prototype on which the student can 'invent' and then manage a variety of other clinical pictures. Text boxes, tables, a few pictures, and diagrams add to the clarity of the chapters. There is emphasis throughout on the methodology of supplementing clinical work, and of rigorous independent thinking.
Unlike surgery books by Spittel and Kirthisinghe, both of Sri Lanka, and books by SAARC authors (like Basu, Kapur, Ijaz Ahsan, Pal- to name a few), and many from Britain, it does not pretend to be a complete book. Conditions like abscesses and wounds are not discussed. Other Sri Lankans have written on specialized subjects (Francis Silva, Neville Perera and so on) or in a more biographical manner (e.g. recently Veerasingam, Goonetilleke). This book is almost unique in the region and Britain in trying to set brains working almost in a self teaching/ learning mode.
It does this well- and although the author states that the book is "primarily aimed at undergraduates and junior doctors", I feel many of the more senior trainees and also consultants can benefit by the stimulus it provides to safe and orderly management of patients using current knowledge and guidelines, and also by the challenge to apply similar "problem based learning" methods for the many other clinical problems not listed in the text.
The method of learning and facing problems applying knowledge with dedication to clinical situations also must stimulate readers to imagine scenarios where there may be delay in presentation, or the staff and facilities available to deal with patients may be much less than assumed in the text. A standard textbook would not generate the ability to think as well as this book does. The system of learning and patient care clearly applies to disciplines other than surgery. A further by product of this book is that it can be used interactively by several readers at the same time- in sequence presenting a problem, asking more about it, deciding on the next step, applying necessary knowledge, describing the next clinical development, listing the next investigation and likely results, and the next step in management and so on.
Prof. de Silva can be pleased that this book should be a necessary addition to the shelves of libraries, surgical trainees and teachers in Sri Lanka, Britain, and elsewhere. The price at which it is likely to be available in Sri Lanka will make it difficult for discerning students to avoid buying it for themselves.
Arjuna Aluwihare, (Emeritus Professor of Surgery University of Peradeniya)