Obedience may be a virtue, but for Ella, it's an incredible annoyance. Cursed at birth, Ella must obey everyone's instructions, a circumstance that as you can imagine, leaves much to be desired. It doesn't help that Ella is almost totally alone in the world – her mother died shortly after her birth, and she is left to the tender mercies of a cruel new step-mother when her father remarries. Life soon becomes unbearable for Ella, and she decides to take matters into her own hands. Running away from home, she discovers a whole world waiting for her – one more magical and full of promise than she could have ever believed.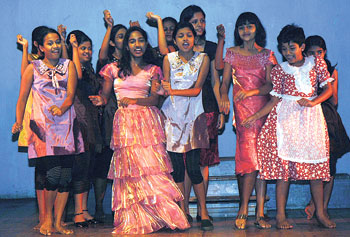 Ella's story, which first appeared in Gail Carson Levine's 1997 novel Ella Enchanted was subsequently adapted for the big screen in a 2004 movie of the same name which starred Anne Hathaway as Ella and Hugh Dancy as Prince Charmont. This week, Ella's tale will be told in a new medium – theatre. The Devi Balika Vidyalaya's stage production will feature a cast of around 50 talented young students, and the occasional "Sri Lankan twist." The play boasts an active chorus, and includes performances of old favourites like Elvis Presley's "Wooden Heart," and "I Have a Dream." Popular nursery rhymes are also being incorporated.
The production has a different name as well. The title Ella Disenchanted, is meant to draw attention to how it is Ella herself, drawing on her own strength, who breaks the curse, says Chathuri Kankanamge, President of the Senior Literary Association. With her is Chathushki Kumarasinghe, President of the Junior Literary Association. This is the first time the two groups will be collaborating on a project, reveals Chathushki. Both girls are narrators. Joining them on stage are a cast drawn from grades 6 to 12, which includes Asela Vimurthi as Ella, Senuri Sooriyarachchi as Prince Charmont, Sasithi Nirmani as King Edgar, Senuri Korala as Hattie, Hashini Vihanga as Olive and Sandani Vithanage as Slennen.
Ella Enchanted is actually something of a Cinderella story says Niroshini Mallawarachchi, teacher-in-charge of the Senior English Literary Association at Devi Balika Vidyalaya, adding that with its large cast of ogres and fairies, the story is in essence a fairy tale. The enthusiasm of her students is heartening to behold, says Nirmala Kaluarachchi, teacher-in-charge of the Junior Literary Association, adding that a team spirit prevails.
Ella Disenchanted – directed by Gamini Haththotuwegama, will be staged on September 29, at 5.30pm, at the Bishop's College Auditorium. Tickets will be available both at the school and at the gate and are priced at 300/- (for balcony), 500/- and 1000/-. Sponsors for the event are Hyundai and Mahesh Pasqual.