Rockapalooza Productions in association with the Fusion Dhyan Arts Circle presents, Dhyan Yatra, an evening with Thri Loka, also featuring the Santoor Maestro Karunaratne Kiriwattuduwe, Harsha Makalanda, Ravibandhu Vidyapathy, Alston Joachim, Shiraz Noor Amith, Sachin Keyt, and 'Mistake', on October 3, at 7.30pm, at the Barefoot Gallery.
Speaking to Pabalu Wijegoonawardene of Thri Loka, consisting of Eshantha Peiris, Sarani Perera, Uvindu Perera, Harshan Gallage and himself – he explains that the essence of their music is universal, as they don't use any words, thus making it easy for anyone to relate to it and interpret it any way they want. "Our music is a mirror reflection of whatever the listener wants to see," he said.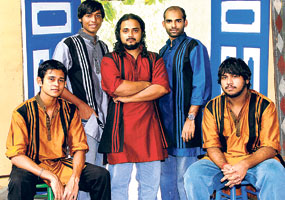 Thri Loka
"The Fusion Dhyan Arts Circle hopes to act as a platform for the many up and coming, abundantly talented artists in our country, who won't otherwise get an opportunity to perform alongside some of the 'greats' of the music industry. Working in the industry, I've come across so many musicians who have not been recognised as yet, and just don't have adequate resources or exposure to get their 'big break.' When we first started off, we didn't have anyone to help us out, so at least now we'd like to help new bands gain recognition. We hope to make this a regular event held every two months," elaborated Pabalu.
Not falling into one specific genre, Thri Loka has been classified as a band that performs a mix of ethnic, rock and jazz fusion. Having released two albums now, ('Bisura I' & 'Bisura II'), they started off in 2005 saying that it's "not about the goal, it's about the journey" and they're still holding true to that belief as they try as much as possible to steer clear of commercialisation. The satisfaction of creating real music, using our collective passion for music, is unparallel! Also, we don't have one particular band leader. Everyone is equal and works together when composing and creating our music," said Pabalu of his band. "I'd also like to thank Rockapalooza Productions for all the time and effort they've put into organising this show," he said appreciatively.
Having been 32 years in the music industry, Kalasuri Harsha Makalanda, in the footsteps of his mentor veteran jazz and improvised music pianist, Cecil Rodrigo, has made his mark in the music and film industry both here and abroad, over the years. "Svarasanga Vannama" orchestrated by him for the Symphony Orchestra of Sri Lanka (SOSL) has been the post graduate research both here and abroad.
Winner of the Presidential Award for Best Music Direction, the Sarasaviya Award for Best Music, the Signis Award for Best Music Direction and the Sumathi Tele Awards for Best Music, among others, Harsha could well be considered Sri Lanka's most accomplished fusion jazz pianist. "We take normal, standard swing, funk and jazz numbers and create our own arrangements, with Ravibandhu Vidyapathi also contributing with vocal improvisations," he added. Harsha, will be joined by Ravibandhu, Alston Joachim, Shiraz Noor Amith and Sachin Keyt (most of whom were part of the combo deemed as the 'Best Act' of the Jazz Yatra, held in Mumbai in 2000).
Sri Lanka's very own Santoor Master – Sangeeth Praveen Dr. Karunaratne Kiriwattuduwa, who's been in India for the past 30 years, mastering the Santoor, Tabla, Pakhavaj, Dilruba and vocals, will be one of the highlights of the show. Back in Sri Lanka for about a year now, Dr. Kiriwattuduwa first learnt the tabla and vocals from his two Lankan gurus Lionel Edirisinghe and D.R. Peiris and later the Santoor from the renowned Indian guru Pandit Shivakumar Sharma. He is currently a lecturer of dance and tabla at the University of Visual and Performing Arts. "The biggest service that can be done for the music industry is to recognise and promote talented artists like these fusion musicians," he emphasised.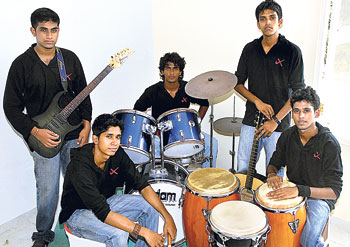 Mistake
Having started off learning Kandyan dancing from his grand-father in Matara, Dr. Kiriwattuduwa got a scholarship in 1972 to go to India and study music and whilst learning and teaching there, he was also involved in creating music for the film industry and also toured quite extensively abroad. The Santoor is a Kashmiri instrument which evolved from the Shathatantri Veena, thus called as it has 100 strings. The Santoor is a very fascinating and magical sounding instrument which is guaranteed to captivate any audience.
"We never had any intention of performing as a band at first. We were just a group of friends who, met quite randomly, and had fun 'jamming' regularly. It was only last year, once we realised how well we clicked together, that we decided to take our music seriously and form a band. Thus the name Mistake," said Janidu with a laugh.
This being their debut public performance, Mistake, comprises Chamil Janith on flute, Chamley Dayan on piano, Guyrika Weerasinghe on percussion, Janidu Wanigasuriya on guitar, Kasun Herath on drums and Nigel Aaron on Bass. Mainly playing fusion music, they play a mix of Sri Lankan, Western, African and Latin drums, without any vocals. "When Thri Loka invited us to perform alongside them, it was like a dream come true, because they were our inspiration when we first started playing. We never thought we'd get the chance to perform at a show hosted by them, so it's quite a big thing for us and we're very excited about this opportunity," added Janidu enthusiastically.
The Official Radio Partner is E-FM and the Official Print Media Partner is The Sunday Times. Tickets are available at the Barefoot Gallery Cafe.
All ye who wish to journey towards a blissful state of being...the time is now!