OXFORD, Mississippi, Saturday (AFP) -John McCain and Barack Obama battled in the shadow of the US finance crisis late Friday in a first presidential debate crackling with sharp disputes over the economy, Iraq and terrorism.
Democrat Obama, 47, vying to make history as America's first black president, branded McCain as a inheritor of President George W. Bush's unpopular legacy of "failed" economic and foreign policies.
Republican McCain, 72, presented himself as a reformer and posed as a superior potential commander-in-chief, repeatedly saying Obama did not "understand" foreign policy threats or was "naive" in his outlook to the world.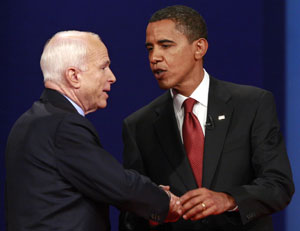 John McCain (L) Barack Obama meet at the conclusion of the first U.S. presidential debate at the University of Mississippi in Oxford, Mississippi.
"I don't think I need any on-the-job training. I'm ready to go at it right now," McCain, 72, said. Both candidates avoided major gaffes in a spirited debate, taking place at a time of deep national peril with the Wall Street crisis threatening to ruin the US economy and millions of working class jobs.
Obama came across as polished and well briefed, and seemed to meet the threshold many analysts set for him going in as a credible future leader of the United States.
An instant telephone poll by CNN and Opinion Research Corp. scored a decisive win for Obama among 524 debate watchers. Asked who did the better job, 51 percent said Obama and 38 percent said McCain.
The Democrat had a yawning lead of 58-37 percent on handling the economy, and a narrower edge of 52-47 percent on the Iraq war, the pollsters said.