NEW YORK, Sept 27, 2008 (AFP) - Paul Newman, known for his piercing blue eyes, boyish good looks and stellar performances in scores of hit Hollywood movies, has died, his foundation said today. He was 83.
Newman, who had been battling cancer, passed away on Friday, Newman's Own Foundation said in a statement from Westport, Connecticut. "Paul Newman's craft was acting. His passion was racing. His love was his family and friends. And his heart and soul were dedicated to helping make the world a better place for all," Foundation Vice-Chairman Robert Forrester said.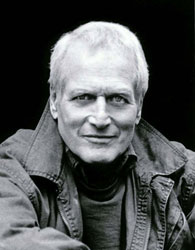 Paul Newman
Newman played youthful rebels, charming rogues, golden-hearted drunks and amoral opportunists in a career that encompassed more than 50 movies. He was one of the most popular and consistently bankable Hollywood stars in the second half of the 20th century. Two of his most popular movies included "Butch Cassidy and the Sundance Kid" (1969) and "The Sting" (1973), in which he co-starred with an equally popular and handsome actor, Robert Redford.
Newman was also a philanthropist, a health food mogul -- he once quipped that his salad dressing was making more money than his movies -- a race car enthusiast and a leftist political activist.
Many however will remember him for his good looks: in 1990 People Magazine chose him as one of the 50 Most Beautiful People in the World, and in 1995 Britain's Empire Magazine picked him as one of the 100 sexiest stars in film history.
Newman won the Academy Award for Best Actor in 1987, late in his career, for his role as a pool shark named 'Fast Eddie' in "The Color of Money,"co-starring with Tom Cruise. Many critics at the time said he was really being awarded the Oscar belatedly for his original performance of the same smarmy character in the 1961 movie "The Hustler."
Born Paul Leonard Newman on January 26, 1925 in Shaker Heights, Ohio into a well-off middle class family -- his father ran a successful sporting goods chain -- Newman acted in school plays as a youth.
He joined the navy in World War II wanting to be a pilot, but tests showed that he was colorblind. Instead he served as a rear-seat radioman and tail gunner aboard Avenger torpedo bombers in the Pacific theater.