Young promising filmmaker, Malaka Dewapriya's short film 'Today' has been selected to the final round of CinemadaMare Film Festival in Italy. His film will compete with over 150 directors around the world at the semi final round from August 10 to 14. The peak of the festival will be reached on August 15, during which the Main Competition's Winner will be awarded.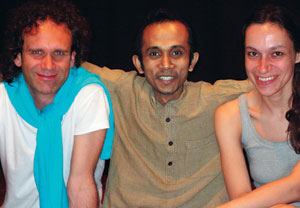 Malaka with his cast Andreu Carandell and Marina Tenório.
On a scholarship, Malaka is presently undergoing his higher education on 'film, video and new media' at Akademie Schloss Solitude in Germany and 'Today' is one of the production he did in Germany with production support of the academy.
Graduated from the University of Colombo, Malaka started his career in arts in 1990 and his multiple talents include the medium of photography, theatre, radio and the print media.
Malaka's early direction, short film 'Life Circle' was selected for the competitive section of the Tel Aviv International Student Film Festival, Israel and was screened in June 2004. This was the first time a Sri Lankan student's film was chosen in an internationally recognized festival. And the selection was a big step to re-establish short film culture in Sri Lanka.
Started with 'Anxiety' in 1998, Malaka continued his directorial role as short filmmaker with 'Penetrate' in 2002, 'Exchange' in 2003, 'Life Circle' in 2004 and 'Transference' in 2006. These short films screened and won awards at number of international film festivals world around included 10th International Student Film Festival Israel -2004, Short Shorts Film Festival Japan - 2004, Cinestud Film Festival Netherlands-2005, Chemara Digital Film Awards Festival USA-2005, Mumbai International FICT Film Festival India -2006, Berlin Asia Film Festival Germany -2006, Osian Cinefan Film Festival: Talent Campus Forum India -2006, Karafilm Festival Pakistan - 2007 and National Film Festival India -2007.
During the scholarship period in Germany Malaka also made two other films 'Malte' and 'End Loop'.
Sharing his experience in short film education and film making Malaka spoke about standard of Sri Lanka and the young filmmaker is concerned about short film culture in Sri Lanka and the future of its artistes.
"From the very beginning of Sri Lankan film industry the short film making has been a barometer to decide on the ability to make lengthy feature films," Malaka claimed.
In fact there was a time where the National Film Corporation (NFC) requested the young filmmakers to make short films to decide on rewarding them with funds to make feature films. "But the short film in itself is a separate medium of art just like novel is different from short story," he commented.
And the world cinema was started with short film making though it was changed with the introduction of sound, colour and length, he added. Unfortunately our film industry and the audience have hardly recognized the power and strength of short films.
"The main reason for this is the unavailability of a platform for short film makers. And even we have not given the available opportunities like television and cinema theatres to showcase the talents of short filmmakers," Malaka lamented.
In other countries even at a time during a delayed train is an opportunity for the public to watch a short film through public televisions in stations and public places.
And in television or a few minutes during a film in a cinema hall could play an important role in popularizing the short film culture in Sri Lanka, Malaka said revealing the possibilities of popularizing short film culture.
And our audience too has not developed its sense of enjoying the short film which runs only to a few minutes. "What is a film or a television film for our audience is lengthy soap operas that drag for hours with multitude of episodes," Malaka complained.
Another problem we see in Sri Lankan film industry is the self-imposed censorship by both filmmakers and the audience. Sometimes filmmakers themselves impose self censorship in expression through cinema and when it is not done the audience themselves censor themselves by boycotting to watch them.
This is the same tragedy befallen on the short filmmaking where the audience is not used to this medium of expression, described Malaka.
"Given the opportunity and the facilities with a proper platform there are a large number of young filmmakers who are awaiting to enter short filmmaking," Malaka concluded.