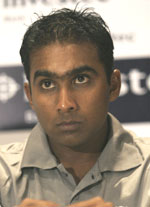 Sri Lankan skipper Mahela Jayewardene
The First Test between India and Sri Lanka begins at the Sinhalese Sports Club Grounds on Wednesday. The touring team has one of the most experienced batting line ups with the likes of Rahul Dravid, V. V. S. Laxman, Sourav Ganguly and the legendary Sachin Tendulkar on exhibition. These four have played over 300 tests and scored more than 30,000 runs. Then you have to add to the mix Virender Sehwag who along with Don Bradman and Brian Lara, are the only players to have three triple hundreds or more under their belt.
It would seem like climbing Mount Everest for the Sri Lankan bowlers to dismiss these players relatively cheaply twice in a Test match situation. But as everybody knows cricket is not about statistics. It is how each respective player plays on the given day and getting runs on the board.
Sri Lankan skipper Mahela Jayewardene speaking to The Sunday Times said; "You cannot go in with just one game plan against players of that calibre. We have two to three plans of how we will try and get them out. Speaking from personal experience, I can tell you that no matter how good you are numbers do not get you runs in the middle."
When asked about injured Lasith Malinga Mahela said "he will not be available for at least another two months. Only time can heal his injury and we do not want to rush him back until he fully fit."
Elaborating on his seam bowling options Jayawardena added; "Maharoof is back in training, but he will not be available for tests. We hope he will be fit for the one day series. We do have a lot of options. Thilan Thushara and Nuwan Kulasekera are bowling really well. Ishara Amerasinghe is also in the squad. Dilhara Fernando is back from injury and needs game time. That is why he is playing in the ongoing three day match against India. I have not had the opportunity to chat with the selectors, but we will have the best possible."
When asked about the batting he said; "Michael Vandort and Malinda Warnapura did really well in the Caribbean. Warnapura as you recall also got a century, which helped his confidence a lot. Both of them are working really hard and they are young in the test arena though they have played a lot of first class cricket. It is up to Kumar Sangakkara, Thilan Samaraweera and the rest of us to back them up. With regard to who will keep wickets, obviously Prasanna Jayawardena is our first choice in tests. He keeps really well and his batting form is also good. I do not see why we should change that combination as Sangakkara can concentrate on his batting without getting overly tired in the field. As for my own form, well I feel good. Test cricket gives me the chance to settle in and spend time at the crease. And that is what I want to do."
Spin sensation Ajantha Mendis was the hero following Sri Lanka's victory in the Asia Cup Final. Jayewardene speaking on local cricket new find said; "Mendis deserves all the credit. He bowled superbly in the finals. We still have not decided on our team composition as yet, but if Mendis does get the nod I just want him to go out there and enjoy himself. Fortunately, he has got Muttiah Muralitharan to help and I have been talking to him as well. Remember he is a player who does not have much first class or club cricket under his belt. He is an intelligent and fine bowler who understands the game really well."
In conclusion, Jayawardene said: "Obviously we want to win the test series. However, it is not something that is going to happen overnight. We have to execute what we have practiced on the field and I am confident if we perform to our potential we can accomplish our goal.