Featured Book: The God Delusion by Richard Dawkins (non-fiction)
The God Delusion is one of those books that could inspire a riot. This bestseller, written by pre-eminent scientist – and the world's most prominent atheist – Richard Dawkins has been described as mercilessly rational. The God Delusion asserts in passionate, emphatic tones, the author's opinion that belief in God is not only irrational, but that it has inflicted grievous harm on society – from the Crusades to 9/11.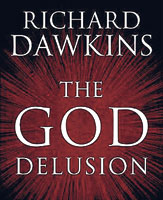 With rigor and wit, Dawkins examines God in all his forms, from the "tyrant" of the Old Testament to the more benign (but still, in his opinion, illogical) Celestial Watchmaker favoured by some Enlightenment thinkers. He eviscerates the major arguments for religion and attempts to demonstrate the supreme improbability of a supreme being. He talks of how religion fuels war, ferments bigotry, and abuses children, buttressing his points with historical and contemporary evidence. The God Delusion makes a compelling case that the belief in God is not just wrong, but potentially deadly. It offers an exhilarating insight into the advantages of atheism to the individual and society, not the least of which is a clearer, truer appreciation of the universe's wonders than (the author believes) any faith could ever muster.
Among Richard Dawkins' previous books are The Ancestor's Tale, The Selfish Gene, The Blind Watchmaker, Climbing Mount Improbable, Unweaving the Rainbow, and A Devil's Chaplain.
Goodnight Bush: A Parody by Gan Golan and Erich Origen (fiction)
Goodnight Bush is a brilliant parody of the children's classic Goodnight Moon, built around the coming end of the worst presidency ever.
This unauthorized parody is a hilarious and poignant visual requiem for the Bush administration. In it we see a childlike George W. Bush tucked safely away in the confines of his own room with all of the toys he's willfully destroyed, abused, or defaced. Complete with a quiet Dick Cheney whispering "hush," this bedtime story lets us finally say goodnight to the disaster that was the last eight years.
The Last Lecture by Randy Pausch (non-fiction)
"We cannot change the cards we are dealt, just how we play the hand." A lot of professors give talks titled "The Last Lecture." Professors are asked to consider their demise and to ruminate on what matters most to them.
When Randy Pausch, a computer science professor at Carnegie Mellon, was asked to give such a lecture, he didn't have to imagine it as his last, since he had recently been diagnosed with terminal cancer.
But the lecture he gave – "Really Achieving Your Childhood Dreams"– wasn't about dying. It was about the importance of overcoming obstacles, of enabling the dreams of others, of seizing every moment (because "time is all you have...and you may find one day that you have less than you think").
It was a summation of everything Randy had come to believe. It was about living.
Three Cups of Tea: One Man's Mission to Promote Peace . . . One School at a Time by Greg Mortenson and David Oliver Relin (non-fiction)
Some failures lead to phenomenal successes, and this American nurse's unsuccessful attempt to climb K2, the world's second tallest mountain, is one of them.
Dangerously ill when he finished his climb in 1993, Mortenson was sheltered for seven weeks by the small Pakistani village of Korphe; in return, he promised to build the impoverished town's first school, a project that grew into the Central Asia Institute, which has since constructed more than 50 schools across rural Pakistan and Afghanistan.
Co-author Relin recounts Mortenson's efforts in fascinating detail, presenting compelling portraits of the village elders, con artists, philanthropists, mujahideen, Taliban officials, ambitious school girls and upright Muslims Mortenson met along the way.
As the book moves into the post-9/11 world, Mortenson and Relin argue that the United States must fight Islamic extremism in the region through collaborative efforts to alleviate poverty and improve access to education, especially for girls.
Captivating and suspenseful, with engrossing accounts of both hostilities and unlikely friendships, this book will win many readers' hearts.
All titles available at Vijitha Yapa Bookshop on request.