"Elderly couple applies to orphan asylum for a boy. By mistake a girl is sent them, " jotted Lucy Maud Montgomery in a notebook in 1904. A few years later, she came across this entry, and decided to write a book based on the idea. And so the beloved classic, 'Anne of Green Gables' was born.
This year, Canada is celebrating a 100 years since the publication of this book. The story about the talkative red haired orphan, Anne Shirley has captivated both children and adults all over the world for the past century. It has made Prince Edward Island (PEI), the smallest province in Canada where the story is based, famous with descriptions of the island's beauty.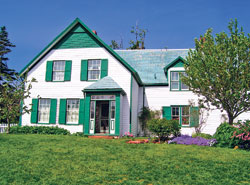 The Green Gables house
In 'Anne of Green Gables,' Matthew Cuthbert and his sister Marilla, elderly people living in a farm in a village called Avonlea, PEI, adopt Anne, even though she was not the boy they had hoped for. With her loving heart and lively chatter, Anne quickly wins their hearts and that of everyone she meets. Her vivid imagination and curiosity lead her to many adventures in their home, and in the village.
The book was so popular, that L. M. Montgomery went on to write six sequels, leading up to Anne's university years, her marriage, and her life as a wife and mother of six children.
What many people don't know about 'Anne of Green Gables' is that it is largely based on Montgomery's own life and the places that she lived in as a child. In a little village called Cavendish, on Prince Edward Island, there is actually a real house called Green Gables, which belonged to Montgomery's relatives, David and Margaret Macneill. If you visit that house today, you will find that it is furnished exactly as it would be if Anne and her guardians were living there. Anne's room looks as though she would come in at any moment, with one of her plain gingham dresses on the bed, and another pretty brown one, with puffed sleeves hanging in the closet.
The Government of PEI has preserved many of the places that L. M. Montgomery wrote about as heritage sites so that they can be enjoyed by the many fans of her books, that come to visit these sites from all over the world.
| | |
| --- | --- |
| | |
| Lovers Lane | Anne's room |
A little white gate leads out from Green Gables to the Haunted Woods. Those who have read the book will remember how Anne, with her overactive imagination, believed the woods near her home to be haunted.
Marilla soon cured her of this fancy by making her walk through these woods by herself one evening. As you walk through these woods a hundred years later, you too will wonder for a moment if there are ghosts about.
This is because the constant sea breeze causes the slender trees to creak and groan in an eerie way.
On the other side of Green Gables is Lovers Lane. It too is a little winding lane that goes through woods, crosses brooks and is dotted with many flowers. It was one of Montgomery's favourite haunts, and also that of Anne's. "Not that lovers ever really walk there," she explains to Marilla, in the book, "but Diana and I are reading a perfectly magnificent book and there's a Lover's Lane in it. So we want to have one, too. And it's a very pretty name, don't you think? So romantic!" And you too would find Lovers' Lane a romantic and beautiful place.
| | |
| --- | --- |
| | |
| The Lake of Shining Waters | Haunted Woods |
Across the street from Green Gables is the site of her Cavendish Home, where Montgomery lived with her grandparents for many years, and where she actually wrote Anne of Green Gables. The house itself no longer exists, though the land is still owned by her descendants who operate a small bookstore there.
Like Anne, Montgomery too was an orphan of sorts. Her mother died in infancy and her father remarried and moved away, leaving her to be raised by her strict grandparents. A little further away is a home called 'Silverbush,' which belonged to her uncle, John Campbell and his large family, where she spent many happy days, and which also featured in her books. Just below the house, spread out like a mirror, is the 'Lake of Shining Waters,' which Anne named in the book, and Montgomery named in real life.
Every person who reads the Anne books, dreams of visiting these wonderful places that Montgomery so lovingly describes. And even if they aren't able to do so, they will surely travel there again and again simply by turning the pages of the books and letting the magic of the words transport them there.