Tough job for Gunaratne
Kingswood's rugby coach Priyantha Gunaratne, who took over from Ronnie Ibrahim, has one of the toughest jobs in schools rugby. That is maintaining the high level of rugby that the school produced over the past five years, especially.
Both the league and the President's Trophy were won by the lads from Randles Hill in 2003, 2004 and 2005. The success rate dropped somewhat last year, but they still finished runners up in both tournaments.

Tilina Manoj
Priyantha who played for Vidyartha in the late eighties and early nineties, also turned out for Kandy SC as a centre. He helped Lasantha Wijesuriya to coach the Antonians in 1994 and 1995 and thereafter was in sole charge until 2005. He is also an 'A' Division Referee, an International touch Judge, and he refereed at the Under - 19 Asiad in Pakistan. He was Asanga Seneviratne's deputy coach of the Sri Lanka Under - 19 squad in 2001-02. So the credentials are pretty good.
Centre Tilina Manoj leads the side which has nine players from last year. The skipper is a penetrative runner who played in the Under - 19 Sri Lanka side in 2005 and 2006. He forms a very effective, even devastating combination with his deputy skipper and fellow centre Gayan Weeraratne. The latter turned out for the junior national side in 2005 and 2006.
Melan Kulatunga, the number eight, has a most difficult task filling the large boots left behind by last year's skipper and number eight Navin Wijetunga. A third year player turned out for Sri Lanka under 19 in 2005.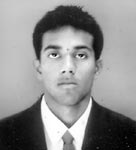 Gayan Weerarathne
Flanker Gayan Ratnayake, a third year, is often capable of dynamic play. Another senior player Roshan Weeraratne is the link-man. The rest of the pool is as follows:
Props – Thilina Herath, Rizwan Nazar, Kapila Kethikenella, Malith Buddika, Hooker- Nuwan Dharshana, Mohamed Shabeer, Locks – Mohamed Himshan, Rajitha Abeykoon, Gihan Ratnayake, Asela Abeysinghe, Flankers – Shaminda Udayakumara, Mohamed Akram, Scrum Half – Madushanka Suriyabandara, Fly Half – Chirath Wijetunga, Centre – Chaminda Bandara, Rajitha Samaranayake, Azeem Amith, Harsha Ranaweera, Full Backs – Chula Susantha, Kasun Wijesuriya.
In the early season schools sevens, Kingswood came off second best to Issipathana. Last year, they lost to St. Anthony's and drew with Wesley in the league. They also lost the Presidents Trophy final to St. Peter's.
At Kingswood, the focus is on rugby. The parents are very keen and are behind the children. The Colombo OBA is right behind the players. Practices are held at college grounds and at the campus.
The coach feels that last year's pack had a lot of weight. The weight is there this time, too, but most of the forwards are new-comers and this could be a problem area. He feels that goods times could lie ahead if the forwards come up to expectations.
This year, Kingswood expects very stiff opposition from schools such as Trinity, Issipathana and St. Peter's. In fact, Kingswood played Issipathana last Sunday and the match was called off around half-time with the Colombo team ahead 6-0. An incessant downpour made further play impossible.
Kingswood is certainly going full steam ahead with its rugby development programme. Mohamed Faizal, a former Vidyartha full back and a schools' 'A' Division referee, heads the rugby academy. There is a triangular in place between Kingswood, Dharmaraja and Vidyartha at under - 19, 10 and 11 levels. Last year, Kingswood triumphed at all three levels.
A rugby enthusiast, Mr. R.M. Chandrasekera the Principal (a former President of the schools Association) leaves no stone unturned in his efforts to see his school remain at the top.