A peaceful abode for old and ailing monks
A devout Buddhist businesswoman named Badhravati had five stupas erected on top of a rocky hill in the midst of the picturesque mountains in Pupuressa, Galaha in 1947. This was to fulfil a vow she had made to construct five stupas on top of a mountain. Her wish was fulfilled and the Badhravati Viharaya was built.
This is the site where a newly built Aramaya for old and ailing Buddhist monks will be declared open by Health Minister Nimal Siripala de Silva in the near future. Located at Pupuressa Road, Galaha, the Aramays is about 29 kilometres from Kandy and 25 from Peradeniya.
This Aramaya, which has been named the Jathika Bikshugilaanopsthana Madyastanaya (JBM), is the brain child of Ven. Deltota Dhammajothi Thera. According to Ven. Balangoda Vidyajothi of Ratemulla Viharaya, another serene temple near Ampitiya, Ven. Dhammajothi, who had seen many old and ailing monks spending their last days in loneliness with no one to care for them, came up with this concept to help such monks in their hour of need. He had presented it to the chief monk of the Asgiri Chapter and to the monks of the other Nikaayas. So far 18 meetings have been held in Colombo regarding the setting up of the aramaya.
Minister Karu Jayasuriya, former Health Minister P. Dayaratne and Lakshman Kiriella inaugurated this endeavour without any party differences and the present Health Minister Nimal Siripala de Silva continued the project to its completion, says Ven. Vidyajothi. Speaker W. J. M. Lokubandara, then Minister of Buddhist Affairs, too has assisted a lot he says.
According to Ven. Vidyajothi, a doctor is to be sent to the Galaha hospital where there is currently only one doctor at work, and he is expected to spend a few hours a day at the aramaya attending to the monks there. The government has also decided to employ some male nurses at the aramays and also some to prepare the dana (meals), he says.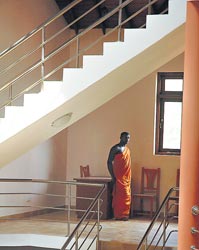 Interior of the building
S. M. Mudiyanse, Ven. Dhammajothi's father, donated one acre of his land for this arama, which he says is a worthy cause for the benefit of the Buddha Sasana.
Rs. 30 million has been spent on the construction of this building and it has taken three years to complete says Ven. Hindawala Dhammarakkhitha of the Badhravati Viharaya. Built by the State Engineering Corporation, it was designed by architect Gamini Dissanayaka, who designed the Peradeniya Hospital.
About thirty monks, who have been of significant service to the Buddha Sasana, will be accommodated at the aramaya at a given time. The monthly expenses are estimated to be around Rs. 100,000.
Situated in a calm and peaceful environment full of scenic beauty, the aramaya is surrounded by lush green mountains and on a clear day Sri Lanka's hill country can be seen in all its glory, including the mighty Adam's Peak.
But unfortunately people living in this area suffer from extreme poverty. Ven. Dhammarakkhitha says that the temple cannot depend on these villagers, and in fact they depend on the temple. He says that it would be best if the government considered developing these villages. "If a few garment factories are brought here, it will greatly benefit the people," he says.
Meanwhile, they look forward to welcoming the aging monks.