Which way, Kandy?
With moves to reintroduce the uni-flow traffic system that was introduced earlier this year and scrapped, Nadia Fazlulhaq and Himal Kotelawala take to the streets of Kandy
4 passenger bridges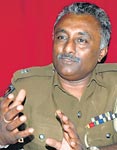 A.S.P. Sisira Weerakoon
To reduce the number of accidents and to provide safe passage to thousands of school children, officials in Kandy have decided to construct four passenger bridges across the by-roads linking up to Peradeniya Road and William Gopallawa Mawatha.
A.S.P. Sisira Weerakoon said the uni-flow system would be re-introduced by June 1 with by-roads being developed while steps will be taken to construct the passenger bridges.
One of the talking points in Kandy was the introduction of the uni-flow traffic system earlier this year. There were bouquets as well as brickbats. Even though some commuters praised the move, residents and traders complained and protested, so much so that the system was scrapped.
Now, city officials are planning to re-introduce the uniflow system from June 1 with a few changes so that it would benefit not only commuters but residents and shop owners as well. This time vehicles entering Kandy town will have to enter through William Gopallawa Mawatha, which is wider and vehicles leaving the city will use the old Peradeniya Road.
A.S.P. Traffic Division of the Kandy Police, Sisira Weerakoon said that the earlier uniflow system was scrapped by the Municipality following complaints made by a group of people. As a result, the majority faced difficulties, he said.
"Kandy is a world heritage city. It is not the sole property of the people living in the Kandy city limits. People from all over the world visit Kandy; this fact should be taken into account before making any decision about the city," he said.
According to A.S.P. Weerakoon the police are implementing this new traffic system following requests from people living in and around Kandy. The matter had been discussed frequently and meetings were held with President Mahinda Rajapaksa. Kandy DIG Nimal Mediwake had laid the foundation for the re-introduction of this system. Meanwhile the Kandy Municipal Council, Road Development Authority, and the Department of Railways will support this decision and provide assistance.
"There are by-roads connecting the old Peradeniya Road and the William Gopallawa road. We have identified four such by-roads and will be developing them before June 1. "Ninety nine percent of people here are in favour of this decision but only the shop owners have some objections, fearing that it might affect their businesses," he added.
According to the statistics, the number of vehicles entering the city is greater than the number leaving it. The decision to use William Gopallawa Mawatha to enter and Peradeniya Road to leave the city was taken after considering this. Kandy's Mayor, L.B. Aluvihare said that the final decision will be taken tomorrow following a meeting with the Traffic Advisory Committee, the General Council and representatives of all stake holders to review the situation.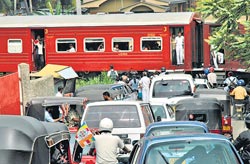 Railtracks which run parallel to William Gopallawa Mawatha
"But we are of the strong opinion that we should re-introduce the uniflow system on June 1 as it had been a great relief to the people who suffer due to traffic congestion. But for the traders and some residents it will be a daily problem even though it's a relief for many who work outside the city. We have to consider all the issues and bring about solutions," he said.
There had been some unfortunate accidents following the introduction of the uni-flow system. Many use the by-roads which traverse William Gopallawa Mawatha to Peradeniya Road and it was reported that two people died after being hit by a train a few days after the introduction of the uniflow system.
Kamal Samarasinghe from Gelioya who had come to pick up his daughter from school was optimistic about the move to reintroduce the uni-flow system.
"There are a huge number of schools on Peradeniya Road and having two way traffic has caused much congestion so re-introducing the one-way system is good. When it was introduced first there were no traffic blocks at all. It's a fact that many people mainly the traders are protesting against it, but no one likes traffic jams especially after school," he said.
M.D. Wilmad, a three-wheeler driver running a school service for students on Peradeniya Road was not in favour of the proposed move."We hope that the one-way will not be reintroduced as it will cause much difficulty and it is not safe for the children who have to cross the road," he said.
S. Suranjith from Peradeniya said that the introduction of the one-way system had caused accidents in Kandy as many are not used to this system.
"When the uni-flow system was introduced we saw drivers competing with each other on the roads and even the police have said that no one was bothered about speed limits in the city," Suranjith said. Tharindu Karannagoda, a prefect of Kingswood College, also situated on Peradeniya Road said even though traffic jams could be avoided due to the one-way system, it was risky for children who use the by-roads that linked to Peradeniya Road and William Gopallawa Mawatha.
A grocery store owner in William Gopallawa Mawatha said that even though businesses were not affected there would be some parking problems. "Prohibition of parking will affect small shop owners who do not have parking spaces for customers. This is the only way which our businesses will be affected," he said.