KACPAW takes doggy care to Dambane Veddahs
When the Veddahs made their request to have their beloved dogs spayed, no one was more pleased than Champa Fernando, Secretary of the Kandy Association for Community Protection Through Animal Welfare (better known simply as KACPAW.) KACPAW is campaigning to protect both man and animal from rabies. Containing the number of stray or unvaccinated animals in the country is thus vital. So far, the statistics offer little comfort - cases of human deaths caused by rabies rose from 55 in 2005 to 73 in 2006.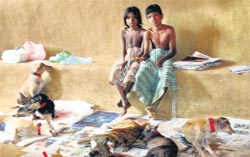 Boys with some spayed dogs
A pragmatic approach is what is called for, says Mrs. Fernando. Owners must spay/neuter their dogs, thereby negating the issue of unwanted and abandoned puppies. Fortunately, where many owners were reluctant before, the tide has begun to turn, as is evidenced by the request made by the Veddahs to KACPAW. The dogs have always been beloved of their Veddah owners. Though they are no longer permitted to hunt, the dogs remain always at their master's heels.
KACPAW arranged to have a team of veterinarians spay the dogs in Dambane's Veddah community. "Dogs are referred to as Kukkalae-atto, a lovely term," says Mrs. Fernando, explaining that Kukkala in Sinhala means pups and atto means someone/person/you. "They respect all life and things and refer to all as 'atto'," she says.
The dogs are valuable in their own right. "We were told that the marriage dowry consists of a bow and arrow and a Kukkalae-atto," she says, going on to add that "this goes to show that dogs are part and parcel of this ancient community."
A total of 113 dogs were spayed in the course of the two day programme. Also treated were several cattle and an orphaned baby deer, whom the Veddahs call Ranmenika. "She is their darling," says Mrs. Fernando.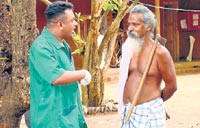 Vet surgeon Dr. Chamith Nanayakkara and Veddah chief Uruwarige
The dogs were up in half an hour after surgery and drank a lot of milk, while most other animals would have taken several hours to recover enough to drink.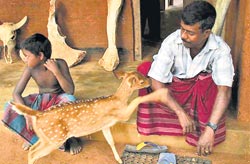 Ranmenike tenderly suckles an elbow
"I think this dog strain is as ancient as the Veddah community," said Mrs. Fernando, adding that most of the dogs looked thin and tough, and capable of surviving under even extreme conditions.
Many of the dogs had serious cases of mange and were treated for that as well. Hopefully, a follow-up clinic this month will help eradicate the problem for good. "In the end, the main thing is that all the dogs are loved and accepted by the community, mange or no mange," says Mrs. Fernando.