New thinking wanted in recruiting policemen: IGP
Police chief opens holiday home for other ranks
A new way of thinking, which has the blessings of the National Police Commission, had to be adopted in the recruitment of police personnel, said Police Chief Victor Perera.
He was addressing gazetted officers and other ranks at the auditorium of the rest home 'Hantane Sisila' in Bogambara he had opened a short while earlier.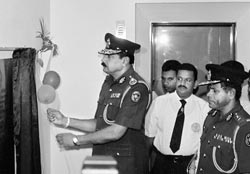 IGP Victor Perera declaring open the holiday home
He said those with Advanced Level qualifications and even graduates applied for posts of constables and added that a new way of thinking had to be adopted in recruiting personnel on their education and ability rather than by sticking to rules.
The Police Chief said he had drawn up a scheme for promotions based on efficiency and seniority, which had the blessings of the President and the National Police Commission. 'Hantane Sisila' declared open by the IGP is described as a home away from home for police constables and sergeants. It has rooms for families and also rooms for single police personnel coming to Kandy.
The ownership of the land had been a matter of controversy but finally the Police Department was successful in obtaining it to fulfill the needs of the other ranks.
The inspectorate has a holiday home in Kandy and so have the gazetted officers. The idea of a holiday home was conceived during the period of Senior DIG Bodhi Liyanage when T. Anandaraja was the IGP.
The IGP said the holiday home would be a place of their own and they could proudly say that their service was on par with any other service. He said the police personnel should make use of it and look after it.
Among those present at the opening were Senior DIG Sirisena Herath, DIG Nimal Mediwake of the Central Range, DIG Ajith Paranatala of Police Headquarters, Senior Superintendents, Superintendents, Assistant Superintendents, Chief Inspectors, Inspectors, and four representatives of police personnel from the provinces.
The IGP declared open the building by cutting a blue ribbon and unveiling a plaque while the traditional lamp was lit and jaya mangala gathas were sung by pupils of Mahamaya Girls' College.
He said the Police Department was established nearly 140 years ago for the benefit of the British rulers and it was time all Police officers change their attitudes for the betterment of the country and for the public whom they were serving, adding that public funds were maintaining the police service and the police were duty bound to serve the public.