Forgotten campaign, forgotten veterans
In this three-part series for Remembrance Day, Sergei De Silva Ranasinghe looks at the Burma Campaign (1941-1945) of World War II and traces the role of the Ceylon volunteers who fought at the front
It is often overlooked that the internecine Burma Campaign was for the British Army and its auxiliary forces, the longest campaign throughout the Second World War, starting from December 11, 1941 and ending on June 15, 1945. The intensity of the fighting can be gauged by the casualties suffered by both sides, with 14,326 Allied troops killed and 73,909 wounded; and among the Japanese an estimated 185,149 fatalities.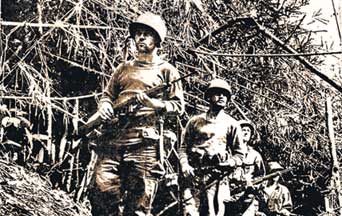 Allied soldiers in Burma during the WWII.
Due to little public recognition received in the media and the protracted nature of the campaign which extended well past VE Day - May 8, 1945, the British/Indian Army in Burma was termed the 'Forgotten Army'. As one officer described it, he had the, "…strong feeling that they are taking part in a forgotten campaign in which no one in authority is taking any real interest".
During the early stages, up to early 1942, few people in Sri Lanka, then Ceylon, demonstrated an awareness of the impending strategic consequences of the Japanese invasion of Burma. Only in April, 1942, did the full reality of war come home to the people of Ceylon, when the Imperial Japanese Navy assaulted Colombo and Trincomalee by air and mauled segments of the hastily assembled British Eastern Fleet off Ceylon.Popularly, the Burma Campaign is often better known for the infamous treatment of European Prisoners of War (POWs) on the Burma-Thai railway, which received widespread coverage through the award winning film, The Bridge on the River Kwai (1957), which incidentally was itself filmed in Ceylon.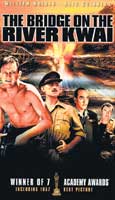 A poster of the film The Bridge on the River Kwai, a movie on the Burma Campaign shot in Sri Lanka.
At the time, the film was a huge undertaking, the bridge alone needing, as the late Noel Crusz who liaised with director David Lean, maintained in a recent interview: "Local labour, carpenters and craftsmen from Kitulgala saw 1,500 trees cut down and dragged to the site by 48 elephants … It was the largest film set built at that time, even surpassing Cecil B. de Mille's Gates of Tanis in 'The Ten Commandments. There were many fair-skinned Ceylonese Burghers: planters, merchants, engineers, willing to be extras. In fact 37 nationalities were among the extras, and some had fought in World War II."
Considering Ceylon's proximity to Burma, for years I was deeply intrigued to ascertain whether Ceylon, in any way contributed to the Burma Campaign. In recent times I was fortunate enough to find rare details alluding to the participation of Ceylon volunteers to the much vaunted Burma Campaign.
After undertaking years of extensive field research and conducting numerous interviews with veterans, I have finally gathered the biographical details and stories of several Ceylon volunteers who served in the forgotten Burma campaign, which commenced 64 years ago.
Enter the Ceylon volunteers
It presently remains obscure how many Ceylon volunteers served in the Burma Campaign, although there are fleeting indications that suggest the manpower contribution was between 100-200 volunteers.
However, I am aware that Ceylon's volunteers formed two distinct ethnographic categories, namely, British and Ceylonese – the British mainly from the exclusively European, Ceylon Planters' Rifle Corps (CPRC) and the Ceylonese from units of the Ceylon Defence Force (CDF) and the Ceylon Royal Naval Volunteer Reserve (CRNVR).
The British element consisted of two types; those born and raised in Ceylon; and those who settled in Ceylon for mercantile or other reasons. Both types joined the all European CPRC, a prominent unit of the CDF which was open to all European males of military age in Ceylon. An appropriate personification of this is exemplified by CPRC volunteer, Major Philip Grimwood, as stated by his relative: "Prior to World War Two, Philip was a Tea Taster in London and was then employed by Attampettia Estate, Bandarawela, Ceylon as a Tea Planter, joining the Ceylon Planters Rifles' Corps in 1939. He was also the SD in charge of the Napier Division of Rookatenne Estate.
"With the outbreak of World War Two, he was involved with Garrison Duty in Ceylon with the CPRC. On May 7, 1942, Philip was granted an Emergency Commission into the 4/10th Gurkha Rifles. From January to May 1942, he attended the Officers Training School at Belgaum, India and was subsequently deployed at Imphal with the 4/10th Gurkhas.
The 4/10th GR War Diary entry for November 4, 1943 states: 'Lt Grimwood and Rfm Budhiman Limbu entered Burma for attachment to 3/1 GR, being first men of 4/10th GR to enter Burma'."
He subsequently served with the 3/4th Gurkha Rifles, as a Lieutenant attached to 40th Column in the Second Chindit Campaign. Later, he served with the Office of Strategic Services (OSS), Detachment 101 and Special Operations Executive (SOE), Z Force. Upon demobilisation at the end of the war, Major Philip Grimwood returned to Ceylon to continue his career in the tea industry. At the time, European males of military age in Ceylon were generally affiliated to the CPRC. In much the same circumstances as the First World War, throughout the Second World War, the CPRC served as valuable officer reinforcements and is estimated to have provided over 700 volunteers commissioned in the British and auxiliary armies, mainly enlisting or obtaining transfers on an individual basis. Notwithstanding, between August, 1940 and July, 1942, the CPRC dispatched six contingents amounting to 172 soldiers as officer reinforcements to the Officer Training School at Belgaum, India, and they were given postings in British/Indian Army units. According to one unpublished and incomplete list, the CPRC had at least 39 of their volunteers in Gurkha units, some of whom are highly likely to have served in Burma.
Perhaps there are many similar stories to be told about the hundreds of CPRC volunteers who served in India but that is not the objective of this article. Of the CDF units, the Ceylon Light Infantry (CLI) appears to have been where the trickle of Ceylonese volunteers originated. These participants included: Gerry Van Reyk of the 2nd battalion CLI, (who according to Lieutenant General Denis Perera served in Burma, although no records have been located); P.D. Pelpola; S.D. Ratwatte; A.R. Udugama and B.R. Kriekenbeek, who all served as military observers.
It is a matter of regret that I could not locate any substantive details on P.D. Pelpola, S.D. Ratwatte and A.R. Udugama other than their war service records.
Volunteers from outside the CDF included Rex de Silva, Bonaventure Schofield and 17 known personnel from the CRNVR. As such, the largest contribution of manpower to the Burma Campaign came from the CRNVR. As will be established, the unassuming Ceylonese contribution to this forgotten theatre, merits deference.
Peter Donald Pelpola
The late Major P.D. Pelpola served in both World Wars in frontline theatres receiving many decorations to his name, including the War Medal, Defence Medal and the Burma Star for service in the Second World War and appears to have been the oldest Ceylonese volunteer to serve in Burma. Due to his rank as Major and his impressive military background, notably in the First World War where he served with the Legion of Frontiersmen in German East Africa campaigning against General Von Lettow-Vorbeck, it is quite likely that he held a position of responsibility.
According to his service records, while he was affiliated to the 2nd battalion, CLI, he volunteered to serve in Burma for a short tour. He was sent to India for further training on December 16, 1943 and was subsequently attached to the 161st Indian Infantry Brigade, in the Arakan, from January 1, 1944, to January 27, 1944.
Sooriyaratne Douglas Ratwatte
The late Colonel S.D. Ratwatte joined the CLI in 1938 as a 2nd Lieutenant and when war started, he was posted to the 1st and 5th battalions, CLI. In 1942, he volunteered to serve in Burma. After initial training, he was attached to the 14/15th Punjabis, in the Arakan, where he led a company. In the post-independence Ceylon Army, S.D. Ratwatte held several senior positions in the Ceylon Volunteer Force, later the Sri Lanka Army Volunteer Force, notably as the first Commanding Officer of the 2nd (V) Sinha Regiment, retiring at the rank of Colonel.
Alexander Richard Udugama
A.R. Udugama received a commission in the CLI as a 2nd Lieutenant in 1940 and was posted to the 1st, 3rd and 4th Battalions respectively. According to the excellent research conducted by retired Major General H.V. Athukorale: "He underwent numerous infantry courses [sic] in Ceylon and India, and was promoted to the rank of Captain on 1st January 1943. In November 1943, he was selected for attachment to the 14th Army in the operational areas of Burma. During this period of attachment, he served [sic] with the 7/2nd Punjab Regiment in the Arakan area, on the eastern side of Mayu Range. For service during the Second World War he was awarded the Burma Star, the Defence Medal and the War Medal."
Mervyn Rex de Silva
Winner of the prestigious Lord Leverhume Aviation Scholarship, the late Rex de Silva from St. Peter's College, Colombo, was one of several dozen Ceylonese volunteers who joined the Royal Air Force Volunteer Reserve in the Second World War and was amongst the first Ceylonese to experience frontline aerial combat in the war. He received his training in England and was posted to 504th Squadron, (Spitfires VB) at Ibsley and Redhill where his squadron escorted Marauders over German occupied 'Fortress Europe'.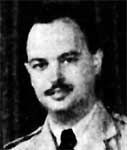 After a lengthy period of service in Europe, he had the honour of being posted to Ceylon in April, 1944, with the 17th Squadron, at Minneriya in defence of the 'Trincomalee Fortress Area'. On November 19th, 1944, the 17th Squadron relocated its operational base to the Imphal valley, where air support was rendered to the allied ground offensives on Kalewa and Taukyan. In his diary, Rex summed up the events: "December 19th. Spitfire VIII. Beat Up Taukyan. Just a show for the Colonel's benefit!!! December 19th. Patrol. Kalewa Bridgehead again. December 20th. To Sapam. And Gentlemen! Kalewa Once Again!!" Rex ended the war as a Flight Sergeant.
Brian Randall Kriekenbeek
Now an elderly gentlemen of 83, yet vibrant and alert, Brian Kriekenbeek recalled for the first time, during his telephone conversations with me, his memories of over 64 years. When war began, Brian felt assured of his motivation to fight: "I accepted the fact the British were occupiers, and felt the Empire was guarding Ceylon from the Japanese." On completing his schooling at Royal College and turning 18, he volunteered to join the Ceylon Defence Force (CDF) and was accepted for officer cadet training at Diyatalawa. In December, 1942, after finishing a six month basic training course, he obtained a commission as a Second Lieutenant in B Company, 2nd Battalion, CLI.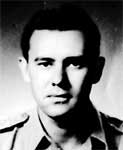 In November, 1943, he volunteered to serve at the Burma front. Within days of selection, he entrained from Colombo to Talaimannar and embarked on a ferry to Dhanushkodi, the closest proximity from Talaimannar to Southern India on the Rameswaram coast. On January 1st, 1944, he was attached as reinforcement to the 114th Indian Infantry Brigade in the Arakan and posted to D Company, 4/5th Gurkha Rifles, as a Second Lieutenant. Brian's tour with the 4/5th Gurkha Rifles was an outstanding experience. In his short three-week stint he was accepted by the other ranks and officers of the battalion. Ethnically, the unit's composition was typical of the British-Indian Army of that time, mostly British officers and Indian other ranks.
His first experience of patrolling through the jungle was uneventful. However, his experiences soon changed. As he sardonically recalled, his first combat experience was: "Quite frightening because no one had shot at me before". However, on his second dusk patrol they stumbled on to a Japanese platoon near a paddy field. Immediately both patrols began firing at each other from a distance of about 200 yards. The loud clatter and confusion of rifle and sub-machine guns firing went on for several minutes before both patrols hastily withdrew into the jungle – as he remembers, there were no likely casualties in the skirmish. Out of the six patrols with the 4/5th Gurkha Rifles, four made contact with the Japanese.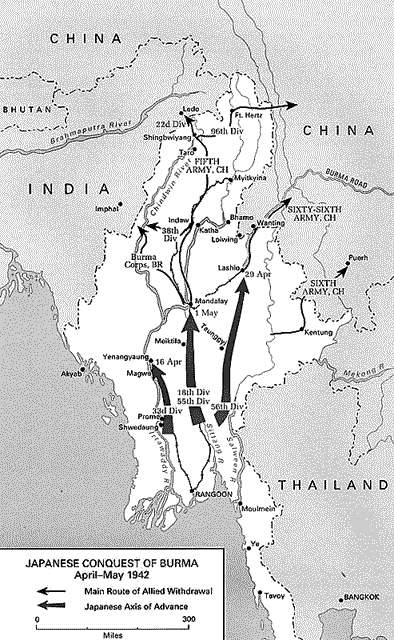 At that time, due to the static nature of their portion of the front, they had simple orders to collate field intelligence on Japanese positions, movement and numbers. As Brian said: "I conducted all my patrols at night, scouting for Japanese positions, which was pretty grim work. Night patrols were normally conducted after dinner, around 7 pm, and usually lasted several hours. We tended to stay away from the jungle tracks as they were prone to ambushes. The 'No Man's Land' area we operated in was normally between three quarters to a mile in distance. At night we could not see, so we navigated with a hand-held compass which was difficult. When we encountered Japanese patrols it was always nerve wracking and confusing and we were not quite sure where they were, so we fired wildly in their direction. Once contact was made we would either drop flat on the ground or take cover and frantically scan for enemy silhouettes or muzzle flashes. If we spotted them we fired our weapons and threw grenades. The duration of these skirmish actions lasted sometimes for up to 15 minutes. Quite often contact was made out of the blue with the Japanese patrols."
Through his encounters and experiences, he had developed an ungrudging respect for the Gurkhas he served with. "It was a brotherhood. They treated me in an excellent manner. The Gurkhas were so special, it was like working with military machines."
Once his brief tour with the Gurkhas was over, he was posted to another unit on the Burma front for an even shorter tour as a 2nd Lieutenant in the all British composed, 1st Somerset Light Infantry, better known as the 'SomLI'.
His posting was with C Company, 1st Somerset Light Infantry, which was attached to the 7th Division's 33rd Indian Infantry Brigade. His duties were identical to his experience with the Gurkhas, taking part in three uneventful night patrols with no sign of the Japanese. As destiny would have it, Brian's short two-week tour of duty with the SomLI was to be a starkly different experience. He remarks rather indignantly: "When they found out where I originated from, there was a definite change in their attitude towards me. They had very ill-informed and negative views of Ceylon and its people to the point of being condescending and just bloody rude. They didn't like that I was an officer, didn't respect my commission and displayed irritation when saluting me!"
Once his five-week tour of Burma ended, he was ordered back to Ceylon in February 1944 and rejoined the 2nd battalion, CLI at China Bay, Trincomalee where he was promoted to the rank of Lieutenant.
Soon after, he attended an advanced infantry training course for NCOs and junior officers at the 'Battle School', near Weliveriya. Subsequently, he was sent to India to attend the Jungle Warfare School, at Shimoga, in January, 1945, for one month, before rejoining the CLI in February, 1945. In mid 1945, he led a group of 10 soldiers from his battalion on a special mission, escorting 26 interned Japanese POWs to India. As he recalled, "They were just poor harmless bastards who were captured probably from the merchant navy." The escort party travelled by train from Colombo to Talaimannar, and the group was ferried to Dhanushkodi. Once in India, they travelled by train all the way to the Red Fort, Delhi, where the POWs were transferred. Brian affirms that by the end of the war the CLI furnished guards as POW escorts for at least 6-8 missions, between Ceylon and India.
Demobbed in mid 1946 he was awarded the Burma Star and the War Medal. Subsequently in 1947, he signed up as a 2nd Lieutenant in the British Army, General List Infantry (Ceylon Section) and agreed to serve with the 1st battalion, Ceylon Corps of Military Police (CCMP) that was deployed in Malaya from August, 1947, to June, 1949, where he was promoted to the rank of Captain. After Malaya, Brian returned to Ceylon and in 1949 migrated to Australia.