Prefects meet to lead

P - Perfection in everything, being presentable to others
R - Respecting each and everyone around you
E - Energetic and firm to stand all conditions without complaining
F - Fairness in giving an ear to all around you
E - Endearing in manners
C - Cunning enough to give a swift smart reply to juniors
T - Tactful in every way'
Thus ran the introduction to the school prefects' leadership seminar for the year 2001, organised by the Colombo Central YMCA on June 9 and 10. With 23 schools and some 67 participants, the seminar seemed to be quite a hit with the young prefects.
Conducted by the YMCA for some years now, the seminar aims to enhance the leadership skills of the prefects, while enabling them to gain valuable information and discuss practical problems by way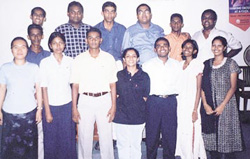 of lectures, case studies and open forum.
The organising committee comprises past prefects, all past participants, who are thus equipped to conduct the programme in a practical way. They also know where to make changes in the existing programme so as to enhance it.
Another advantage of past prefects being on the committee is that they, as senior students, can encourage their juniors to join in the programme.
Says Thishya Weragoda, the Chairman of the Organising Committee, "The programme is planned over a period of four months with committee meetings held once a week." According to him they ensure that the programme involves both 'work and play' to ensure that no Jacks (or Jills for that matter) turn out to be dull.
This year there were four lectures on the subjects of 'leadership', 'time management', 'public speaking' and 'career guidance', which were coupled with discussions of case studies and some 'fun' activities.
The case studies were an interesting section where problem scenarios were handed out to each group and the groups in turn after some discussion presented the course of action they would use to go about solving the problem. Through the presentations, discussions, differences of opinion and guidance by the organising committee, a more fool-proof course of action was built up.
Says Thishya: "Group based activity was important so that participants from different schools got to mix. Thus when they approached a problem they were not limited to the way their school handles it. Instead of being on a narrow track they were open to new ideas. Thus each time a group presented a solution or recommendation, they had to come to a consensus first."
So how did the participating prefects find the seminar? Niran Anketell felt that the lectures were very good, particularly the ones on time management and career guidance.
Said Niran: "The activities helped break the ice, and bring some participants out of their shells. From that point on we were not confined to our own personal space.
"Where the case studies are concerned, prefect/prefect, prefect/teacher based cases were brought out, but no real prefect/ student problems that are more common in a prefect's career were presented. Fortunately we were able to discuss this during open forum.
"When handling the cases you figure out where you stand in relation to the issues brought up. By listening to other people's opinions on the same issue you start to see things, you otherwise may not have taken into consideration."

---
Cloths Line
I want to live my life again!
Thank you 'clothes line' for letting us share our thoughts so frankly. I just want to pen my agony hoping I'll lose at least an ounce of weight from my heavy heart.

I loved someone, with all my heart and soul. I had so much of spirit in me and I gave it all just to make him smile and I was so happy for myself as I could give, without a single thought of selfishness. Of course it was mutual. We shared both tears and smiles. He became my sole motivation - (unfortunately). Nevertheless, what was beautiful to us became taboo to the rest of society.

Finally, he decided that I belonged with my family and not with him. He said he could not split families. What do you know about splitting families? Today, I've become a dud, who's lost interest in everything. Hope doesn't seem to hear me. My mother looks as if all life has drained out of her. My father, he's given up a challenge he accepted and I'm stagnant, not being able to let go of the memories I've been cherishing so dearly. My final exam has become just another dream. New Year was just passed by our house; it never came in. I'm dying inside every minute.... I sincerely hope it'll never happen to anyone else. True, I lack determination and flexibility - but I just want to know, is this, what loving someone so - unconditionally - is all about?! Is "love" all about deep wounds and life long scars ?

U.D.

A mother's love knows no bounds
You made me a mother, the best position in life I could hold and made me so happy on the day you were born. The day you were born I was as happy as I could be and my mind was free of any problem. But as time went by and you grew up, I had to face the problems - problems that every mother has to undergo at certain stages. Mine were somewhat different, you being a stubborn child was one, your father's sickness was (I feel) the second - leaving my job to be with your father was the third. Fourth, fifth etc..... followed.

You and I lost him some years ago and it threw all the burden on me. I was your mother and I took the courage to bring you up and make you a man. I wrote down your education as No. I in my priority list. I became less attached to material comforts and gave you the best of education, food and comforts. I still carry the burden and am busy thinking of your future. My shoulders ache with pain. The pain of struggling. This journey of life is long. I work hard to earn a living.

I should earn for a decent living - to give you a good life which you will one day cherish. I look for other avenues and the correct paths for you because I love you, not because you are my only child, but because I must perform my duties as a mother perfectly. I cannot rest until I do my best for you. Remember I am not perfect. I am not 100% correct in what I do at times. I have my faults. I am a mother among other mothers who struggle with day to day problems. I feel weak at times as I struggle to go through life. I don't ask for help, that is my fault. You call me arrogant, yes, I may be. I don't think I can ever rest even if I perform all my duties as your mother. There will be still more to do. Mothers are like that as you always say. I have come to a stage where I have to take a decision to part from you - not for ever but for a few years. This decision I've taken because I want to give you the best of life. To educate you abroad. Many people dream of it. That was my dream too. I hope it will materialize.

By Manel C

Don't hide your feelings
We cherish the pleasant memories of love and friendship which we receive from people who are close to us. When we recall our past, most of us regret the fact that we have so rarely expressed our real feelings to those who us.

People expect love and friendship from us. Yet we never bother to show them affection when they are still with us. When we have to part we will always regret not having spoken our feelings to them.

I think inability to express feelings is due to the egotism and prevailing circumstances in our contemporary society. This may lead to a lot of mental trauma.

Therefore we must somehow make up our minds to speak of our feelings to people, forgetting self and thinking of humanity. This way we let them know how much they really they mean to us.

Nelum

My grandson -a beam of light
My-ten-year-old grandson spent a few days with me during the school holidays. Oh, it was so enlightening and rejuvenating. Frank, innocent, bubbling with energy and vitality, he brought a new dimension into my staid life.

There was no generation gap. From the moment he stepped in, the house resounded with his laughter. His exuberance was infectious, and I found myself falling in line with every thing he did. We sang, danced, played, went for a film show, and lunched out. An exponent of sho-to-kan karate, he went through several phases for my benefit. Then he simply hugged and kissed me "Bye Grandma" and went back home.

Mrs. Ranee Perera

---
Ritchie moans about marriage
Married life with U.S. pop superstar Madonna is not all sunshine and roses, British film director Guy Ritchie told the German weekly Stern.

"It is still too early to say how my wife will influence my life," Ritchie said in an interview in the news magazine's latest edition. "But I do already know that it's sometimes hard work living with her," the 32-year-old director of Snatch and Lock, Stock, and Two Smoking Barrels admitted.

"My wife has great acting talent, but she also has a headstrong personality. A director would have to guide her in the right direction," he said.

When asked about the pressures of living with someone famous, he said, "I can understand that the whole world is interested in my wife. That's even why I married her." Ritchie, father of Madonna's son, Rocco, insisted that they are a "normal small family." Madonna's daughter, Lourdes, was fathered by her fitness trainer Carlos Leon.

But home life is currently on hold while the mega-selling diva tours Europe with what promoters call "the most extravagant stage spectacle of Madonna's career."

---
Tom Cruise finds new love: Nic Cage's ex
Tom Cruise is dating up a storm with a married woman - gorgeous Patricia Arquette, estranged wife of Nicolas Cage. Tom's friendship with Patty quickly turned to passion after his soon-to-be ex Nicole Kidman began stepping out with Italian producer Fabrizio Mosca. "Tom didn't want to be the first one seen out with another person," an insider disclosed. "For the sake of the kids he's kept his personal life low-key." But since Nicole's jumped back into dating, Tom feels he now has every right to start enjoying life again. And he's found romance again with Patty. "She's been visiting him at his temporary residence at the posh Hotel Bel-Air in Los Angeles. And she's been by to see him while he's filming the new Steven Spielberg movie ' Minority Report.' "Most recently they stepped out in public at the Casa Vega restaurant in L.A." An eyewitness at the restaurant revealed: "Patty and Tom were sitting in a back corner booth at around 8.30 p.m. on May 22. A pitcher of margaritas and a bowl of chips had just arrived and Tom and Patty were giggling with each other. There was no mistaking that this was a date. Patty kept talking about the goings-on at the Cannes Film Festival and Tom seemed enraptured by her every word. A source close to Tom said. "Tom seems to light up when he sees Patty strolling in. He always greets her with a tender kiss." "It was only a matter of time before the two of them went public with their romance," the insider added. "This has been one of the worst years in both Tom and Patty's lives. Patty lost her father and she and Nic Cage finally threw in the towel over their bumpy marriage. "Even though Patty's divorce still isn't final and Tom and Nicole's dissolution is slowly working its way through the courts, they've begun to cling to each other for solace.
---
Critics against fans in 'Pearl Harbour' battle
The second part of a two- pronged attack on the box office hit Leicester Square last month, as blockbuster Pearl Harbour sailed in for its London premiere - just a week after the three-hour epic was launched in Hawaii.

Thousands of fans were drawn to the Odeon cinema, eager to catch a glimpse of British leading lady Kate Beckinsale. And Kate didn't keep them waiting. Disembarking from a limo, and wearing an off-the-shoulder outfit with clinched-in waist, the actress joined her co-stars for the low-key ceremony.

It was a far cry from the lavish £3 million American premiere, held on-board an aircraft carrier complete with a cast of thousands, F-15 jets and fireworks. Yet for Kate, coming home for the London premiere was a nerve-wracking experience. "This is much noisier and scarier than it was in Hawaii," confessed the actress, who was accompanied by her mother.

The love-in-time-of-war saga is going to need all the publicity it can get to avoid turning into a box-office bomb. But after grossing £38 million in its first weekend in the US, it seems that the public is at odds with the critics who have slated the film. Happily for Kate, this is a war the fans seem to be winning.

---
Kate Beckinsale's
- triumph over deadly eating disorder
Pearl Harbour beauty Kate Beckinsale has a shocking bombshell in her own past - she nearly died from anorexia!

The 5-foot-9 stunner reveals that at 15, she weighed a skeletal 70 pounds.

"I kept quiet about my anorexia for a long time," says Beckinsale, 27. "But then I began to realize that I could help others who are dealing with it, so I decided to break my silence."

The London-born actress, who plays Ben Affleck's girlfriend in the blockbuster WW II epic, admits to being "a very sensitive teenager."

She had a lot to be upset about. Beckinsale's father, British sitcom star Richard Beckinsale, died tragically when she was just 5.

Four years later, her mother, Judy Loe, now 52, remarried, and little Kate suddenly inherited a sister and five brothers. The traumatized girl stopped eating. "It was a form of an adolescent breakdown," she confides. "It was difficult for me to adjust to them."

Beckinsale says she witnessed firsthand the horrors of the disease during the five years she was treated.

"There were girls whose parents were kneeling on their chests, pouring ice cream down their throats," says Beckinsale.

Her mother didn't treat her anorexia as a physical illness, which Beckinsale is grateful for. Instead, she was sent for counselling. "I was never threatened with force feeding," she says. "My parents would've never done that, even though they probably wanted to."

Today, the actress is happily married to actor Michael Sheen, 32, and the proud mother of a daughter, Lily, 2.

And she is very close to her stepbrothers and stepsister. She says: "I love my stepfamily very much."

---
Baldwin rewrites history of World War II pilot
Don't look to Pearl Harbour for historical accuracy - Alec Baldwin and the film's producers toss it overboard in favour of political correctness, Hollywood schmaltz and international box-office receipts.

Incredibly, Baldwin, who plays American flying ace Lt. Colonel Jimmy Doolittle, came up with his own version of what the heroic pilot really said when asked about his famous bombing raid on Tokyo. Doolittle, who led 16 B-25s on a retaliatory strike across the Pacific four months after the Japanese sneak attack on Pearl Harbour, vowed that if his plane were disabled, he'd aim it so that it would kill as many Japanese - military or civilian - as possible.

But Baldwin, in an interview, says Doolittle told his men: "If his plane runs out of gas, he'll point it into a military target and kill himself." Even worse, in an early version of the script, Baldwin's Doolittle is written as a foulmouthed thug who didn't know a slide rule from a play ground slide. The truth is the Alameda, California native was a highly educated man with a Ph.D. in aeronautical engineering from MIT. Outcries from Doolittle's family, historians and veterans forced the director to fix many of the inaccuracies - but not all. Baldwin still utters a few colourful swear words. Jack Green, a staff curator for the Naval Historical Centre and retired Air Force officer, says he did his best to keep it accurate as a technical adviser for the film.

"But it's their movie, not mine," he says. In another scene, costar Ben Affleck plays an Army Air Corps pilot who is helping Britain's Royal Air Force battle the German Luftwaffe before America entered the war.

The problem with that, says Green, is American military personnel were prohibited from participating in the war while the U.S. was officially neutral.
Producers also made slight changes in the script to make the movie more sensitive to Japanese and German audiences. But the biggest flack over the movie seems to be coming from veterans and others who object to outspoken, anti-gun and very liberal Baldwin playing revered military man Doolittle. Many conservative radio and TV talk shows have re- ceived calls from viewers complaining about the casting of the actor. Baldwin, who is separated from wife Kim Basinger, doesn't seem to mind. "I loved playing Doolitle," he says. "He was a big, bold, larger-than-life character."