---
Royal lucky to survive
Bernie Wijesekera reporting from Bogambara
After a few early sparks, the unbeaten Royal rugby team gave one of their worst performances this season to defeat Trinity by 12 points (a goal and a try) to 6 (2 penalties) in the first leg of the traditional Bradby Shield rugby encounter. The match was played before a capacity crowd in dull conditions with gutsy winds blowing across the venue yesterday.

At the break Royal led 12-6, despite dominating this half. Otherwise it was a lukewarm performance by both teams in the second half. Diehards from both schools from abroad were in the midst to watch this game namely Geoff Weinman, Noel Brohier, Dilip Kumar Vice President Australian Rugby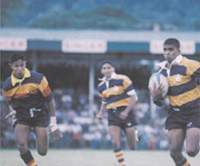 Football Union and C.H. Seneviratne amongst them.
Royal who took the field as firm favourites, started off with a bang with the kick-off. Off a mid-field move the ball exchanged hands beautifully for granite-hard centre Rajith Jayasundara who made a 40-yard solo run to bemuse the Trinity defence like a hot knife cutting through butter, for an unconverted try. This was followed by a penalty in the fifth minute. Royal opted for a scrum close to the line.
Prop Shamil Mohammed crashed over the line. Dev Wjewardena added the extra points (12-0). Despite this early setback the lions roared with vengeance when their forwards fought back to earn two penalties through hooker S. Wasalatantri (12-6) at lemons.
With strong winds blowing across the grounds both teams blundered with their kicking with the ball veering off course. Royal's fullback Dev Wijewardena faltered too often. He should have joined the line and run the ball instead.
The entire second half was a disappointment with both teams performing dismally. Trinity, however, had the edge winning much of the good ball from the long throws. Had Trinity moved the ball in this half with Royal's flanker Kasun Atukorale, sent to the sin-bin for trampling by referee Nizam Jamaldeen. Last year Royal won the first leg 32-25 yet to lose the Bradby. Considering Trinity's poor record this season (they lost to St. Anthony's, S. Thomas' and St. Peter's), they did well to contain Royal to a 12-06 deficit. Royal's ball handling was pathetic.
The security arrangements at the grounds was good. It was headed by S.P. Kandy M. Samaraweera, who left no stone unturned for a trouble free game.
Former1961 Trinity captain Jayantha Jayawardena was the chief guest.
In the under 17 game Royal beat Trinity 15 (3 tries) to 12 (a goal and a try) in the first leg of the Simithiarachchi Trophy game. The scorers for Royal were M. de. Silva, V. Wijewardena and N. Wickremasinghe. For Trinity the tries were scored by R. Buckman and M. Vidanagamage. Referee A. Rankothage.

---
Sandra tells Sanath's inside story...
By Prasanna Sanjeewa Tennakoon
If a famously busy man like Sanath Jayasuriya needs an understanding wife who is able to accommodate ups and downs ranging from long absences to eccentricities he seems to have found the right match in Sandra.

At their palatial residence at Lake road in Boralesgamuw, Sandra sat with her one time hero and now husband Sanath to give a rare interview on their relationship and the role she plays after one and a half years of marriage. We found the pretty air hostess Sandra to be open and spontaneous, somewhat in contrast to Sanath who says little but often responds with a smile or a blush. "Sanath means a world class cricketer and hence his responsibility is a large one. I need to understand this aspect of Sanath's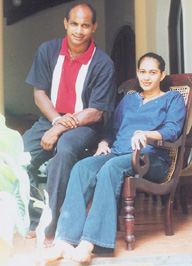 life. But the moment he finds little leisure he is very much with me and I appreciate that. He goes marketing with me and as enjoyable as winning a match is the time when he joins me at meal times," she said. It was clear to us that Sandra possessed the rare combination of the virtues from a rural upbringing at Kochchikade in Negombo where she was born and educated together with the cosmopolitan outlook and attitudes that came from her experience as an air hostess for the national carrier.
So it was not surprising that Sandra freely and fluently answered most of the questions we put to her including the very personal ones, while she turned towards Sanath for conformation or clarification when the matter involved both of them. To put it briefly Sandra was educated at Ave Maria Convent in Negombo and before higher studies she had a dream of flying higher and so up she went as an air hostess with all the blessings of her broad minded parents. She loved the job but now she says the nature of Sanath's work and commitment which takes him overseas for weeks or months has brought about a situation where she feels home duties require her full time attention. But Sandra insists that the decision was totally hers and there was no pressure or persuasion from Sanath.
A gleaming Sandra loves to talk to people, perhaps it come largely from her experience on the big jet planes.
Where did she meet Sanath??
"One day I was at a friend's party and Sanath happened to be there. He struck a conversation with me, and that was it. Later I would telephone him. By and by we became friends and then intimate. We then decided to tell our parents and their consent came without hesitation.So here we are together," she said.
She spilled a few more secrets about Sanath. Perhaps because he stays in hotels for weeks or months he has lost the taste for five star courses and prefers a simple home cooked rice and curry. Sandra caters to that wonderfully well. Sanath is a bit of perfectionist and likes to see things very much in order. That's apparently not a problem for Sandra. His favourite pass time is to listen to Sinhala music on the radio
Sometimes he comes into the kitchen apparently wishing to help in the cooking but Sandra often tells him to mind his business. Obviously everything is not sunshine and a rose garden. What are the failings or weaknesses in Sri Lanka's most popular personality? Sanath gets angry quickly and to make it more difficult he keeps mum about it. So Sandra apparently finds it difficult to read him or relate to him at such times.
As Sandra chatted on proudly seeing herself as the luckiest girl in the country, Sanath was silent most of the time. So we thought we could ask him as to what he thought about Sandra . This is what he said. " Sandra is a source of immense help in my high pressure life. We understand each other and we are happy." Typically he was cutting a long story short, so much like those quick fire half centuries he is famous for.

---
Kingswood out of President's Trophy
By M.Shamil Amit
A try in the injury time by burly Number Eight Mario Orloff enabled St. Peter's to score a well deserved but hard fought win over reigning President's Trophy champions Kingswood by 14 points (2 goals) to 12 (4 penalties) in the quarter finals of the President's Trophy rugby encounter played at the Police Park yesterday. At the short whistle Kingswood led 6-0.

In the first half the Peterites were off colour and had a torrid time with the Kingswood forwards making raids at regular intervals and centre Vinod Bandara was in fine form with his kick when in the 11th minute succeeded with a penalty and put over another penalty in the 29th minute. With Kingswood leading 6-0 the short whisle was blown.

On resumption the Kingswoodians increased the lead in the sixth minute when centre Vinod put over his third penalty. But the Peterites coming back with new vigour scored a try in the ninth minute through winger Mohamed Rinaz with full back Reshan Cooke converting it. Seven minutes later Vinod succeeded with a penalty again taking the lead further for Kingswood which was 12-7 in their favour. But Vinod missed a penalty and then came the try from Mario Orloff, who had a miserable day until that try, which gave the Peterites a place in the semi finals. The try was converted by scrum half Tariq Zuhair. Kingswood centre Vinod Bandara won the most valuable player award. Referee: Rohan Nishantha.

---
Thomians enter semi-finals
In another quarter final match of the President's Trophy rugby encounter played at the Police Park S.Thomas, who were the runners-up last year, gained a place to the semi final by overcoming Zahira by 24 points (2 goals and 2 tries) to 20 (2 goals and 2 penalties). At half time the Thomians led 12-6.

The Thomians were made to fight hard for this win. In the first half it was Zahira that opened scoring when fly half M.I.Marso put over a penalty, immediatly after that the Thomians scored a try through hooker Adhil Munna which was converted by scrum half Dilsiri Welikala. In the 27th minute Thomian winger Jason Jayasekera scored a try after running nearly 35 metres, the conversion was fluffed and just before half time Marso put over another penalty for Zahira.

On resumption the Zahirians surprised everyone with a try in the first minute of play scored by centre M.S.Rawlings with Marso converting from a difficult angle.They however missed two easy penalties which cost them a lot. The Thomians replied with two tries one in the seventh minute through hooker Adhil Munna and in 23rd minute through centre Amila Madurachchi of which one was converted by Dilsiri Welikala. In the dying stages second row Mohamed Nazrin scored for the Zahirians which was converted by Marso.

Hooker Adhil Munna was named the most valuable player of the match.

Referee: A. C. Tennekoon.-(MSA)
Antonians withdraw
St. Anthony's Katugastota has withdrawn from the President's Trophy tournament, according to their coach Priyantha Gunaratne.-BW
---
Peterites juniors amass record 416
The Peterite Under 15 junior cricketers amassed a record score of 416 runs in just 54 overs in a Division One inter-school cricket match against Zahira Colombo played at Bambalapitiya on Friday. The feature of the match was a century scored by S.Wickramasekera his second for the season and two good partnership for the Peterites, 143 for the first wicket between Udugamasuriya and Buddhi Kulatunge and 120 runs for the second wicket between Kulatunge and Wickramasekera.-MSA

---
Rover pinpoints
Who is correct?
Seeing is believing rather than relying on stories on hearsay, which could be damaging as well. Throwing punches could be harmful as they could rebound. It is like walking in the dark with a full plate in hand to the swimming pool.

Who bothers to dispute things mentioned on hearsay by interested parties ? Truth will prevail someday. Come, come man pull up your socks and do not tighten your laces, (or else yoy may fall!)
Dead sport
How come the popular women's sport is inactive in the Kandy District. Is it due to the President-elect being a public relations officer showing no interest whatsoever or for the simple reason of having little knowledge of the sport. Rover learns that she is a top officer known as one-way wherever she goes.
Telephone bills
A medal winning sport, very much in the news now, has been told in no uncertain terms to cut down on the bills running into a few thousands. It is understood that these funds have been taken, not for the sport but for political purposes.
Coach as Chairman
The Coach of the medal winning sport is made the Chairman of the National Selection Committee even though he is a coach. Over to you Mr. Minister for action.
Not correct
How is that a match referee is down to give commentaries for the forthcoming triangular series between Sri Lanka, India and New Zealand. Is this in order? The Chairman of the Interim Committee earlier gave instructions that one match referee should pull out. He took your advice!

Two VP's as selectors

Two vice-Presidents, the Assistant Secretary and a committee member are serving on the Selection Committee of an indoor sport. Are they short of persons to serve on the selection committee. For your information Mr. Minister.
High-handedness
A Sports Ministry Official, electing himself as the Media Officer, closer to the Minister, picked media officials to cover an event in the outstations, by personally inviting those of his choice, while going on record that he does not need a certain media group, for the events of the National Sports Festival. Not a drop of water was given to these media personnel, but, this self appointed media officer was seen sipping a whisky while asking a TV Station that they should give much publicity and he would like to have a friendly chat with them.
Seen and heard
A former Cricket Board official was seen seated with the officials from an outstation association to discus the issues surrounding the Dambulla Project when the Interim Committee has been entrusted with it by the Minister of Sports. Does the Minister know about this?

The question posed is whether the so called dissolved Board of Control for Cricket for Sri Lanka is still running the show with their catchers of the respective Associations and Districts. But the position is that this Association has been told to have its accounts in order and it's from the Minister's area.
Not done
An indoor sport has the parent of two participants holding a top post in this association which has doubts of the selection process, which saw this official's son and daughter both go on a recent tour. Does the Minister know about this?
Begging bowls
Why are those picked to represent the country, from leading schools in Colombo being told to find their money to represent Sri Lanka on a tour of England. What has the Minister of Education got to say about this? These schoolboys and girls are made to go around with begging bowls to represent one's country. What a shame!
Ball tampering
It is in the news that a leading Sri Lankan bowler was jeered and hooted at a crucial Mercantile A Division knock-out limited overs semi final match, where he was supposed to have tampered with the ball. The two umpires kept silent about it. May be they would have made inquires about the jeering and hooting, while there was also a match referee. Did he do it, because of no TV coverage. What action does the MCA going to take on this issue, since Rover learns that they are in the know of this incident.
---
'Retired Hurt', a success
We carry in full a statement made by Roshan Mahanama on his controversial auto-biography "Retired Hurt".
I consider it my duty by my fans and the cricket-loving public, to place my viewpoint in response to your article on the above subject.
This article was first published in the Daily Telegraph of 9th May, 2 days after my arrival in Melbourne for the launch of my auto-biography "Retired Hurt" with Ken Piesse. All leading newspapers in Australia including 4 TV Channels and 3 Radio Stations too, highlighted the statement in my book that during the 1996 Aussie tour, Glen McGrath called Sanath Jayasuriya a "black monkey".
I was heavily interviewed by the media in Melbourne and Sydney during my visit from 11th to 19th May seeking my response. There were threats of legal action by Glen McGrath and hints of an injunction against the release of my book in Melbourne on 11th May. Despite these threats I am happy that "Retired Hurt" was successfully launched.
Considering the wide publicity this comment has received locally and internationally I wish to clarify my position with reference to comments made by Glen McGrath, his manager Warren Craig and Malcolm speed, the ACB Chief.
Point No.1: The book deals entirely, with my cricket story and not McGrath's story. It records my experiences and observations. It objectively deals with the good, the bad and the ugly.
Point No. 2: The controversy is on one line in a 230-page book. It is taken out of context and blown out of proportion. It should be read along with the other comments in the book. I have said that McGrath made the comment in the heat of the moment and so on.
Point No. 3: I am not making an allegation or a specific complaint against McGrath. Nor do I want any action taken against him now. We did not make an official complaint then and decided to let it pass. But we certainly did not approve of the comment. I have narrated it along with a series of ugly incidents which took place during our Aussie tour of 1996, such as the false challenging of the size of our team sponsor's Logo, accusation of ball tampering by us and Murali being accused of "chucking". McGrath's comment was a part of my objective analysis highlighting the various factors which motivated and brought out the "Killer Instinct" in us, to beat the Aussies and bring the World Cup to Sri Lanka.
Point No. 4: Glen is a nice guy, he is a great bowler.
That does not mean I condone his sledging. In fact, sledging in the real sense of the word should have no place in the gentleman's game of cricket. I am firm in this view.
Point No. 5: The ACB chief asks how I know about this incident, when I did not play in that match. This is amusing. Even if I played in that match I may not have been at centre, when the incident occurred.
I was injured and I was in the pavilion along with all the other players, team officials and the doctor in attendance, when Sanath on his return after getting out dejectedly informed us of the remark made by McGrath.
Point No. 6: The doctor in attendance at that match telephoned me in Sydney when I was there and in response to the publicity given by the Aussie media to McGrath's comment, inter-alia, vividly recalled this incident and how upset Sanath was as a consequence.
Funnily, some including Mark Taylor have insinuated, that the comment was fabricated to promote my book. My book was not conceived as a commercial exercise for profit. In that case, I would have given my story to a publisher. The book was printed by me with the assistance of a close friend - and that too, only a limited number of copies were printed. To these insinuators including Mark Taylor, all I can say is "don't judge me by your standards."
Mark also states, "It is 5 years since this match and this allegation has not been raised until now and ". Firstly, as already emphasised it is not an allegation against McGrath. Secondly, if I decided to write my auto-biography 10 years hence, it would have come up then and not now.
I have also been asked why the book was launched in Melbourne. There are 2 reasons for this. One, the person who assisted me in writing the book and the chief promoter are both from Melbourne and the book was also printed there. Two, I was keen to launch the book in Sri Lanka along with a Sinhala translation in fairness to the majority of my fans in Sri Lanka. I will launch it on 31st July in Sri Lanka. In the last 2-3 years McGrath has been punished on about 3 occasions for using abusive language and bad behaviour in international matches.
In conclusion, I wish to make a firm statement to all concerned and the general public of Sri Lanka, since my early childhood, I have been greatly influenced by high standards of conduct and behaviour instilled in me by my parents and my teachers. McGrath states, "I deny it totally, absolutely, 100%". I wish to categorically state, that every comment made in my book "Retired Hurt", is the truth, the whole truth and nothing but the truth - totally, absolutely, 100%!
Yours Sincerely,
Roshan Mahanama